Hello!
I'm Amy Scott, nomad-in-chief here at Nomadtopia. 
In 2002, I took my cousins' advice to "travel more while you still can" to the extreme and decided I should quit my job to travel around the world.
I wasn't the type to take off right away, though! I spent more than two years reading, saving, and planning, and in 2004, it was finally time.
I quit my job as an editor at a travel publishing company in the San Francisco Bay Area and boarded a plane to Peru.
As my trip came to an end nearly nine months later, I spent a week on the beach in Thailand, trying to make sense of it all, and one thing was clear:
This was not the end, but only the beginning, the first of many steps I would take toward creating my ideal life—my Nomadtopia.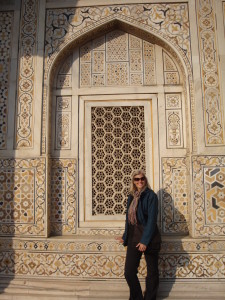 When I returned to the States, I founded Nomad Editorial, so I could continue the adventure without running out of money. I started the business in Los Angeles in August 2005, spent the spring and summer of 2006 on a cross-country road trip, and ended up on the East Coast, where I hunkered down until I was ready for my next move: to Buenos Aires, Argentina, in May 2007.
Buenos Aires was one of my favorite stops on my round-the-world trip, and I decided to go back to get a deeper cultural experience, work on my Spanish, and take advantage of the lower cost of living as I continued to build my business.
I loved it right away, and what I originally thought might be a six-month or one-year stay turned into two years, and then three years…
It was the first time since I started plotting my escape back in 2002 that I didn't have a plan for what was next.
I loved having the freedom to go anywhere, but I also realized I didn't need to go somewhere else as long as I was enjoying where I was.
Despite my nomadic nature, I usually find it pretty easy to get comfortable and start doing homey things like cooking, gardening, and knitting (I am a Cancer, after all)… And I have to admit, this nomad started to nest a bit!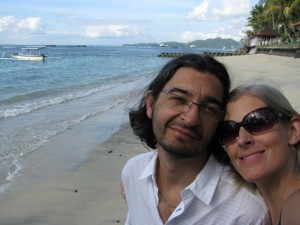 But just when the pull of the road started to distract me with dreams of heading to Thailand to rent a beach bungalow or to Mexico to eat tacos every day, I met a super-hot Argentine named Roberto. Lucky for me, it turned out that he, too, had long been dreaming of a different kind of life.
I stayed put for another couple years (with frequent jaunts abroad), and after our fabulous wedding weekend extravaganza in 2012, Roberto quit his job and started working for himself as a graphic designer and technical VA.
Together, we're now living our Nomadtopia. The details are fluid, but the general principles are pretty solid.
In our Nomadtopia, we will…
Be location independent, supporting ourselves with multiple streams of passive and active income.
Be able to live and travel wherever we want, whenever we want… perhaps spending longer stints in places where we can house sit, do home exchange, travel, volunteer, or visit friends and family.
Find ways to enjoy hobbies like making art, gardening, cooking, and knitting while living a nomadic life.
Keep our finances and possessions streamlined for simplicity and mobility.
Stay healthy and active.
Create community wherever we are, and maintain our relationships with friends and family around the world.
See the world and explore different cultures at a local level.
Find a way to make a difference in this world.
Continue to seek different points of view that encourage us to question the status quo.
Make responsible choices to support the sustainability of our planet, especially by consuming less.
In 2012, we spent our honeymoon traveling in North America for six months.
In 2013, we left Buenos Aires yet again to explore Southeast Asia (balanced by stops in North America coming and going!).
We returned to our home base in Buenos Aires in mid-2014 to regroup for a few months before heading to Mexico, where I finally got to eat all those tacos I was dreaming about years ago.
The adventure continued in 2015, with time in Mexico, Nicaragua, Costa Rica, the U.S., and Buenos Aires.
In 2016, we got really crazy and stayed in one place—San Miguel de Allende, Mexico—for seven months and spent the rest of the year in the U.S., Canada, and Southeast Asia before returning to Mexico.
By late 2017 we'd decided to settle—for now—in Mexico City, and things got even crazier when we had TWINS in 2019!
To learn even more about me and Nomadtopia, check out the interviews and guest posts I've done.
Let's Keep in Touch!
Sign up below to receive my dispatches from the road with tips and tools for creating and living your Nomadtopia.
View our Privacy Policy.
Amy has traveled the world and knows her stuff when it comes to living a true Nomadtopia lifestyle. Whether you're trying to figure out insurance, taxes, or finding a place to live, Amy and Nomadtopia.com are THE go-to resource for anyone looking to make their living while traveling the world.
—Faith Fuller, DesktopDocumentaries.com