Nomadtopia's Top 3 Travel Resources
July 15, 2011 | Travel Logistics
It's official: I just booked my trip to the U.S.! I'll be there for two months, and Roberto will be joining me for two weeks in the middle. There's no doubt this is one of my favorite perks of being location independent: I can be flexible in planning my trip around other people's schedules, so I'll get a good amount of time to visit with my family, attend a couple important events, and take care of some business as well.
There are a million travel-booking websites and related resources out there, but these days I tend to gravitate toward a few sites in particular. For checking itineraries and airfares, I LOVE Kayak. It searches across all the major airlines and booking sites like Orbitz (which used to be my go-to site), and the prices shown include all taxes and fees (very useful for comparing prices on international flights that have higher taxes).
You can limit your search by all kinds of really specific criteria (how long a layover is, what time flights land or take off, how many stops are OK, and on and on). Once you choose an itinerary, it sends you to buy the ticket on the site where that fare is available. Another site I've had good luck with is Airline Consolidator (I bought my first ticket to Argentina from them), but their deals are a little hit or miss.
SkyScanner can also be a good option, depending on where you're going. Also check local and regional airlines, or a RTW specialist like AirTreks, which I used for my round-the-world trip in 2004. If you fly a lot (or are a savvy travel hacker), you can also book tickets with frequent flier miles.
Before I decide what itinerary to book, I also check how many miles I have in my different frequent flyer accounts to see where it might make more sense to top up (or if it would make sense to book the ticket with miles). I signed up for Award Wallet a few months ago; it's really handy for keeping all my frequent flyer and travel rewards account info in one place. I'm certainly no expert on travel hacking (earning and using miles to their best advantage), but because of my international travel I've been racking up some decent balances over time.
To my knowledge, the best source of tips and information on travel hacking is, logically, the Travel Hacking Cartel. Since I signed up earlier this year, I've earned more than 50,000 miles, without flying—pretty sweet. The cartel also taught me how to decide when to use miles and when to pay for a ticket—and how to get the kinds of upgrades and awesome deals that true travel hackers pull off on a regular basis.
Now that I have my itinerary booked, I'll be busy making plans and figuring out what I have to buy and do while I'm there—there's always such a long list!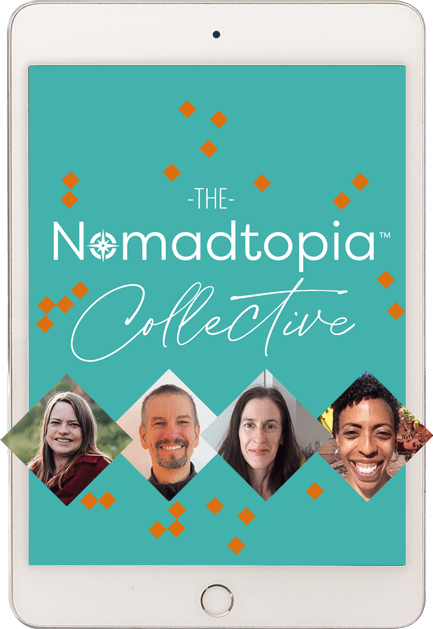 Get the resources and connection you need
Join the nomadtopia™ Collective, a hub of information, inspiration, and community for building—and thriving in—the location-independent lifestyle that's right for you.
Welcome to Nomadtopia™
a hub of resources, inspiration, and community for building—and thriving in— the location-independent lifestyle that's right for you.
The Nomadtopia Collective is a global online community for all nomads — aspiring, newbie, and experienced alike. We're here to not only help with complicated logistical questions related to nomad life, but also to support you at every step of your journey with a vibrant community of people who understand you, your dreams, and your lifestyle.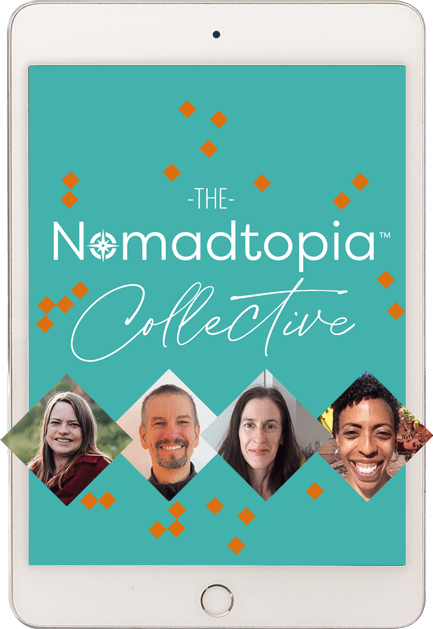 Get the Top 10 Logistical Things You Need to do before becoming a nomad
(That Aren't What You Think)
When you download the guide, you'll also be subscribed to the Nomadtopia newsletter. Your email is safe with me and you can unsubscribe anytime. View our Privacy Policy.