I'm not currently offering 1:1 coaching. Your best option for getting support for creating and living your Nomadtopia is to join the Nomadtopia Collective!
I work with established freelancers and entrepreneurs
to help them take their life and work on the road.
You've successfully navigated the wilds of creating your own business, and now—by design or happy accident—you have the freedom you've been craving.
The possibilities are thrilling: you could pack up your business and move abroad, take an extended road trip, or just escape the cold now and then!
But… all the planning, doubts, and to-do lists around setting out on your next adventure are bogging you down. You're stuck in logistical hell, overwhelmed with information, or just plain worried everything will go wrong if you don't get at least the basics sorted out in advance.
Don't worry—you're not alone, and I'm here to help.
Here are just a few of the people I've helped in the past:
A popular SEO expert who was ready to leave her stationary life and explore the country but was worried about creating an itinerary, keeping her business running smoothly, and handling everyday stuff on the road. That's where I swooped in with my 13 years of nomadic knowledge and helped her map out a route, make a plan for her next launch, and get some key travel tools in place.
An established coach who was determined to set out on a new adventure but was overwhelmed with the logistics of making it all happen—giving up her apartment, changing her address, and other random bureaucracy, ugh! She came to me for support, we mapped it all out, and she walked away with a plan to get it all done and hit the road.
A successful consultant who decided to explore the Caribbean while running her business—only to discover how hard it was to service her clients and enjoy the local vibe when she was fighting with dodgy Wi-Fi, unpredictable transit schedules, and her boyfriend! I stepped in and helped her get set up with essential tools and systems to work from anywhere more easily, and now she's rocking her international dream.
A stellar designer who dreamed of taking off to Europe now that her business was generating consistent income, but she wasn't sure how to handle her business while traveling, was out of the loop on travel tech and tools, and was worried about traveling by herself. Our work together gave her the confidence and know-how she needed to take the plunge.
My one-on-one call with Amy was exactly what I needed. Despite doing a lot of my own research, my options were not clear to me and being able to bounce things off of her and get immediate feedback saved me hours of fumbling on my own. My session with Amy gave me more information than I've ever gotten before in an individual coaching session. I'm so glad I found her and Nomadtopia! 
I knew I wanted to travel and do something different but I couldn't figure out when, where, and how. I was overwhelmed and couldn't wrap my head around this trip or anything about it.

I didn't know if I really needed help; couldn't I do it all alone? But Amy really helped give me that push; she is so good at asking the questions that help me get where I want to go. Investing in coaching made it so I knew the trip would absolutely 100% happen—in fact, thanks to Amy, I could see myself actually doing it, and I gave up my apartment to travel indefinitely.
I loved how Amy gave me straight opinions when I asked for them and also asked great questions when needed. She helped me TAKE ACTION and work in smaller chunks to make my round-the-world trip a reality.
Who am I?
I'm Amy Scott, founder of Nomadtopia, and I've been traveling around the world, working from anywhere, and living abroad since 2004. I've done it on my own and with family, friends, and now my husband. I've sold (almost) everything more than once and now have a home base in Buenos Aires but spend a lot of time in Mexico (and other places!).
I know what it takes to set up and manage a location-independent lifestyle year in and year out, and I help my clients sort it all out and make it happen more efficiently and with less heartache and stress. When you have systems in place and feel confident and prepared to handle the inevitable ups and downs of location independence, you can actually enjoy the freedom you've created.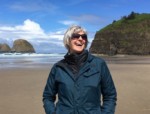 I want to see more and more people busting through their excuses and creating a life they love—and I think location independence is one of the best ways to do it. That's why I created Nomadtopia, and why I went on to get certified as a coach in 2015 with the International Coach Academy.
My coaching offers just the right balance of support and understanding with the push you need to keep moving. There's no cookie-cutter approach here, no "you have to do it this way." Your situation is unique, and I help you look at your whole life and figure out how to make this work for you.
I've been described as "soothing," "rational," "encouraging," and "accessible," and my coaching has been described as "invigorating," "inspiring," and "eye-opening."
When you work with me, you get access to:
My extensive experience planning and implementing big changes, traveling long-term, living abroad, and running a business from anywhere

All of the information, resources, and connections I've gathered over the years

Guidance and accountability to identify what you want and how to get it

My non-judgmental, supportive coaching style
Before I met with Amy, traveling full-time seemed nearly impossible. She helped me tackle logistics like how to finance my trip and got me thinking about how to transition to working remotely. Now I have the freedom to work anywhere I want, whenever I want. Amy's guidance has been priceless.
Amy held me accountable and always moved me forward. It is SO EASY to do nothing, but with Amy's support I never lost sight of my Nomadtopia dream.

Even though making a huge life change was difficult, thanks to Amy, I felt more confident that I was making the right choice, and I finally hit the road with my husband in a newly created location-independent life. 
I'm still riding on the positive energy I got from my coaching session with Amy, and I can now explore my situation from another angle and see the possibilities. She is a great listener and really open-minded and gentle in her approach to giving feedback. I would recommend working with her to anyone who is thinking about becoming location independent and wondering about the logistics of doing it.
Amy helped me take the leap and rediscover travelling the world. I completely transcended my fear around travelling alone and feel I have leapt into a whole new way of seeing life on the road.

She was very reliable and I really felt like she had my back. She was a great sounding board and it gave me a lot of confidence talking to someone who understands the dream. When I hit a crisis on my trip Amy was completely there for me, helped me feel 'okay' and get back on track.
Many of my family and friends didn't support my travels, or didn't understand the challenges I faced; having Amy there who completely understood and supported me was incredibly valuable.

Amy provided me with many useful resources I needed for life on the road, and business. Her knowledge of all things virtual was of great help to me in learning the tools I needed to launch my first group program. 
My strategy session with Amy was awesome! She helped me see beyond any limitations and had fresh ideas for working towards my dream of living my Nomadtopia.

Amy is ultra-creative and had lots of suggestions for ways to move incrementally towards my goals without immediately upending my life.

If you have a dream of living a modern nomadic lifestyle, I highly recommend working with Amy.