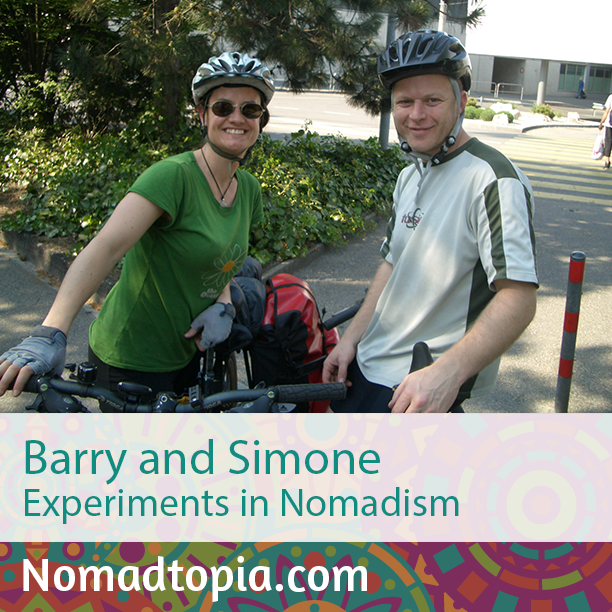 Barry and Simone: Experiments in Nomadism
May 25, 2016 | Podcast
Barry and Simone started their location-independent life by accident in 2012. They now split their time moving between Scotland (where they met) and Australia (where she is from) each year, by spending a few months in different locations each time. While they travel, Barry runs several businesses and Simone sometimes works with him, sometimes teaches English, and sometimes temps as an executive assistant.
Most Memorable Location-Independent Experiences
Tough one, there are too many! Maybe our first trip through Vietnam, or house sitting in Laos for four dogs, or house sitting on a beautiful estate in the Caribbean.
Biggest Surprise along the Way
We learn more and more every week about how to make our lifestyle work for us, so it's hard to pick out specific surprises.
Every location and country surprises me (Barry) in some way. If I was to pick one overall thing it would be how easy and freeing it is to live minimally for extended periods (at least when the climate is warm!)

Falling into a nomadic lifestyle
Their experience traveling in the U.S.
Balancing time "back home" when you're from different countries
Unique challenges of being nomadic at 40
Connecting with locals and keeping up with hobbies
Working with a distributed team
Mixing temp work with travel
The downsides of a nomadic lifestyle and finding your dream
And much more


Resources we talked about
Note: Links with an asterisk are affiliate links, which means you may receive free credit or another bonus and I may earn a small commission or other benefits if you sign up/purchase using that link. There's no additional cost to you, of course!
Connect with Barry and Simone
Get the Top 10 Logistical Things You Need to do before becoming a nomad
(That Aren't What You Think)
When you download the guide, you'll also be subscribed to the Nomadtopia newsletter. Your email is safe with me and you can unsubscribe anytime. View our Privacy Policy.