City life with two young kids left Dan and Danielle wondering when they'd be able to slow down and catch their breath. Eventually, they took matters into their own hands and intentionally chose to slow down by selling everything and leaving Australia in 2011. They have been enjoying a relaxed, fulfilling lifestyle in Costa Rica ever since, and have their sights set on new horizons for the future.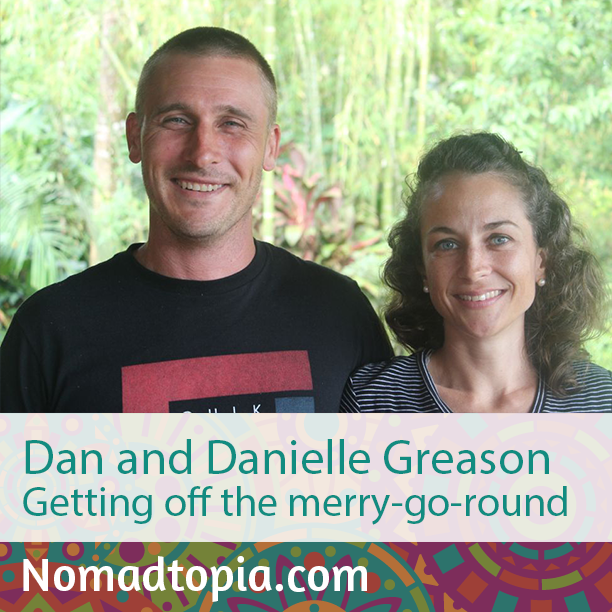 In This Episode
Why they left Australia and moved to Costa Rica
Why they gave up on the "safe way" and went for it
Living (and having a baby) in Costa Rica
Their experience homeschooling so far
How they got started working online
The difference between being a freelancer and a business owner
Special considerations for nomad VAs and other online service providers
And so much more
Most Memorable Location-Independent Experiences
Dan: Learning how to surf
Danielle: Living on a permaculture farm for 18 months
Biggest Surprise along the Way
The number of people that are actually already living this location-independent lifestyle, and how fast it's growing. And, how easy it was to start earning an income online (it took us four weeks from when we started hunting down opportunities).
Resources We Talked About
Join the Conversation!
What ideas or topics resonate with you from this episode? What questions does it raise?
Leave a comment below, or continue the conversation in the Nomadtopia Facebook group.
Subscribe to Nomadtopia Radio for Free
  
You can also add Nomadtopia Radio to your RSS feed: http://nomadtopiaradio.libsyn.com/rss
Enjoying Nomadtopia Radio?
Please leave a review in iTunes to help more people find the show! (Find out how.)
Or share the episode and help spread the word by clicking on the icons below.