Ebonie is an author, a coach, and an entrepreneur. She's currently settled in Brighton, England, but incorporates a lot of travel into her location-independent business and lifestyle. Tune in to learn about the 1% that's not location independent and much more.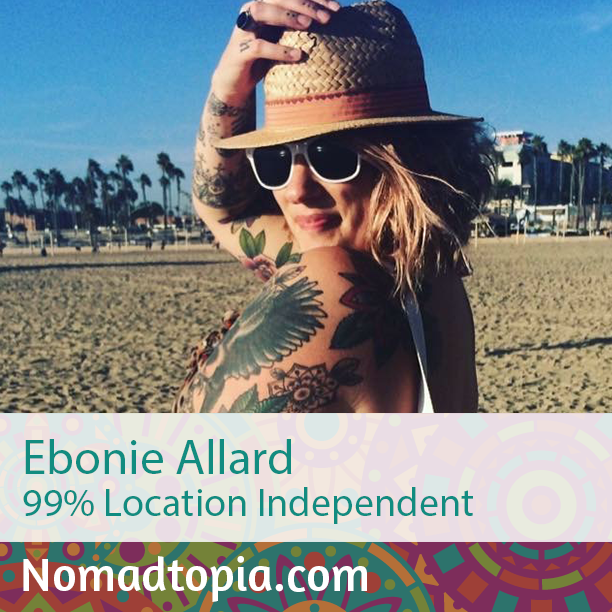 In This Episode

Managing physical products
The impact of her nomadic childhood
Dealing with burnout
Building a lifestyle business vs an asset business
Finding balance between roots and roaming
The sharing economy and village mentality
Dealing with distractions while working
Tips for delegating and for hiring a VA
Her take on what defines an entrepreneur
And much more

Most Memorable Location-Independent Experiences

Meeting my team or clients in person for the first time, often six months after meeting online or having trusted them with all sorts.

Biggest Surprise along the Way

That I want to stay put in one place for now.

Resources We Talked About

Ebonie's Links

Check Out Our Sponsor

Thanks to Greenback Expat Tax Services for supporting Nomadtopia Radio! For years, Greenback has been helping Amy and lots of other nomads and expats save time and money on their taxes. Contact Greenback to see how they can help you too.

We Need Your Help!

Please take a minute or two to fill out this super-short survey to help us learn more about you and what you'd like to hear on Nomadtopia Radio. Thank you!

Join the Conversation

What ideas or topics resonate with you from this episode? What questions does it raise?

Leave a comment below, or continue the conversation in the Nomadtopia Facebook group.

Subscribe to Nomadtopia Radio for Free

  

You can also add Nomadtopia Radio to your RSS feed: http://nomadtopiaradio.libsyn.com/rss

Enjoying Nomadtopia Radio?

Please leave a review in iTunes to help more people find the show! (Find out how.)

Support Nomadtopia Radio with a much-appreciated donation:

Or share the episode and help spread the word by clicking on the icons below.