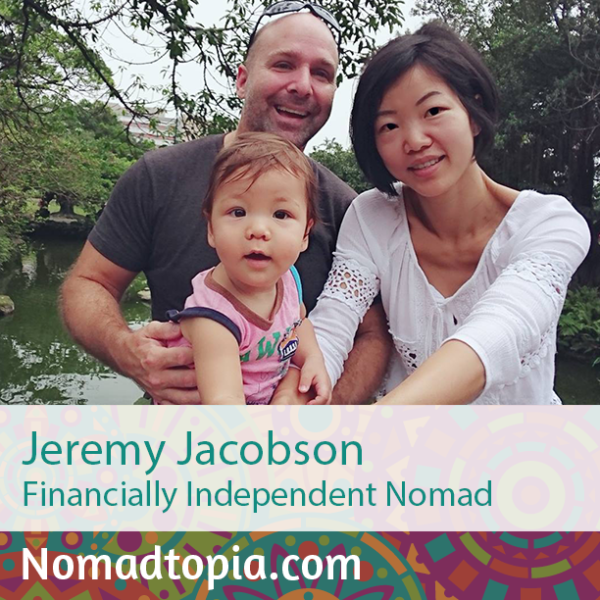 Jeremy Jacobson: Financially Independent Nomad
April 20, 2016 | Podcast, with kids
Jeremy and his wife, Winnie, achieved financial independence and retired in their thirties so they could travel and start a family. With their one-year-old son they now travel slowly, eating their way around the world.
Most Memorable Location-Independent Experiences
We swam with whale sharks in Mexico. Everybody else on our boat was seasick, so the two of us spent two hours within an arm's reach of these amazing creatures.
Biggest Surprise along the Way
Being nomadic is incredibly easy for parents and kids alike.

How and why Jeremy became financially independent
Developing a mind-set for saving
Finding your own sense of freedom
Managing spending in early retirement
How he spends his time
How easy it is to be nomadic with their son
Tips for getting started toward financial independence
And much more


Resources we talked about
Note: Links with an asterisk are affiliate links, which means you may receive free credit or another bonus and I may earn a small commission or other benefits if you sign up/purchase using that link. There's no additional cost to you, of course!
Get the Top 10 Logistical Things You Need to do before becoming a nomad
(That Aren't What You Think)
When you download the guide, you'll also be subscribed to the Nomadtopia newsletter. Your email is safe with me and you can unsubscribe anytime. View our Privacy Policy.