Since he decided he wanted the freedom to travel wherever, whenever, Luke has taken advantage of Working Holiday visas in a number of countries, learned how to talk to pretty much anyone, figured out what it takes to work from anywhere, and lots more.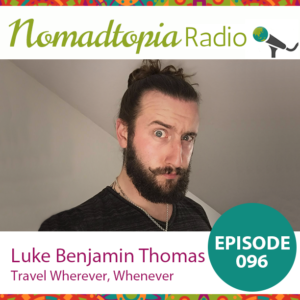 NOTE: Some of the language in this episode may not be suitable for work or children!
In This Episode
How Luke ran his first business into the ground
Traveling on Working Holiday visas
How travel made Luke more extroverted
Luke's tips for meeting/talking to people
Biggest challenges in his Nomadtopia
Resources that helped him create his Nomadtopia
And so much more
Resources We Talked About
Luke's Top 3 Travel Tips
Don't say no when people invite you to do things.
Shop for flights and travel insurance.
Don't stick to tourist spots.
Luke's Links
Join the Conversation!
What ideas or topics resonate with you from this episode? What questions does it raise?
Leave a comment below, or continue the conversation in the Nomadtopia Facebook group.
Subscribe to Nomadtopia Radio
  
You can also subscribe in your favorite podcast app or add Nomadtopia Radio to your RSS feed: http://nomadtopiaradio.libsyn.com/rss
Enjoying Nomadtopia Radio?
Please leave a review in iTunes to help more people find the show! (Find out how.)
Click below to support Nomadtopia Radio with a monthly pledge:

Or support the podcast with a one-time donation:
Share the episode and help spread the word by clicking on the icons below.