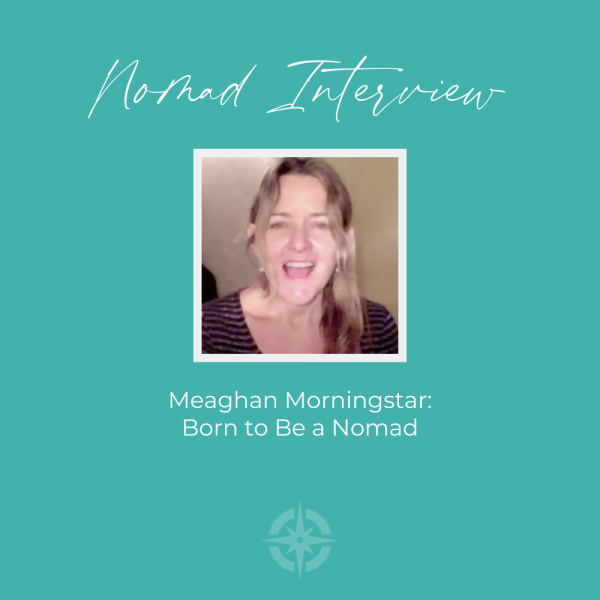 Meaghan Morningstar: Born to Be a Nomad
April 3, 2014 | Interviews
Each person's unique vision of Nomadtopia is a reminder that there is no one way to create your ideal life, no right or wrong approach. Many people just like you—or in even more complicated circumstances—have made it happen, or are working to get there. Hearing others' stories keeps us all inspired, and reminds us to dream big!
Meaghan Morningstar is an International Intuitive Music Therapist who teaches people how to free their body energy and thus their lives through the amazing power of voice work and sound landscapes. She offers online audio products and services to help people teach themselves how to free their voice—the unique soul fingerprint.
How would you describe your Nomadtopia?
I've been officially at it since September 2012. I was struggling to get ready to be a nomad, trying to get my biz in place but feeling no closer. So at one point I just decided to leap. I heard about a musicians' whale trip excursion which I had wanted to go on for years and I just booked it, overriding my usual hesitancy regarding finances, commitments, etc.
On that trip I met several people who would turn out to be very important to me and would see me leap to Bali, Egypt, France, Hawaii and Spain in coming months.
My one-year international nomad trek came to an end after being robbed in Spain at the end of the trip. A tidal wave kind of hit my life in many ways and I returned to Australia.
It was demoralising at first to have to go back, but since returning I have run my first retreat, spent two months singing on boats with whales, brainstormed my little heart out, found new innovative products to sell on the side to partially fund my nomading, done some powerful healing, met a whole bunch of people, lived in a luxurious marina for two weeks working my little heart out (for next to nothing), performed my music meditations and gained fans.
As a lifelong traveller, whilst I was away I had a nagging sense that I didn't know where I wanted to return to in Australia, if I wanted to return at all. But since being back I have received TONS of love, support, encouragement and deepening friendships as well as visiting my soul home, famous Byron Bay.
I also was able to touch base with my old shamanic arts tutor, Dr. Locke, and attend a one-week shamanic training intensive which really grounded my sense of my work and direction (I use shamanism to show people how to use music to connect with the spirit of nature).
I feel my journey the last six months has been about setting up 'grounding' experiences for myself. Now, as I write this I am about to board a plane for South Africa for one month to work with elephants and write some healing elephant songs. It is my first international flight since Spain.
I have learnt a lot and have taken more care with my travel plans this time, as well as pre-researching the country properly before going there. This is important, especially with things like crime; it's not to feed 'fear' but just to know what to intuitively steer clear of. I feel I know where I am from and feel love and support with me as I travel.
I am returning to Australia straight after to work in a recording studio (I am a soul singer and intuitive music products creator), and I am hoping to channel the experience into my music and create some more solidity. After the recording studio I am looking for a country to go to where I can work solidly for six weeks in affordable luxurious surroundings. My experience at the marina showed me that when you are in very comfortable surroundings you can work four times as hard.
I have also been brainstorming and diving deep into clarity, direction and what's important. I just didn't have enough clarity before and it took a bit of slow time to get it back.
I am still working out how to do this sustainably financially, but I am determined. I don't regret the money I've lost or used unwisely. I feel like this experience has been the most transformative of my life. You don't have to get it RIGHT at once. If this is what you want to do, it's worth investing in.
What I've learned, and want to share with others, is this:
It's okay to 'backtrack'
It's okay to make mistakes
Feel proud of being brave
What was the first inspiration/motivation that led to your Nomadtopia?
I was born into it. My parents traveled and I had my first international flight at six months old—Pakistan to Greece! For me it was more a matter of finally accepting that nomading is a part of my character and something I need in life to make me happy.
Watching online training communities regarding business, location independence and nomading helped me see that others were doing it successfully and more importantly, HAPPILY. This really inspired me that one could live on the road and still create, work, teach and develop—it didn't have to be about 'dropping out'.
There was a moment on that first trip I booked in 2012 when we were coming back to the dock after a week at sea with whales and music and wonderful people. I had been invited back to the island by a sailor we had met and  that day I remember saying to myself: "That's it! I'm not going back to my old life". On that boat was a long-time global nomad and she really encouraged me. Support helps.
What is the most unexpectedly useful thing in your Nomadtopia?
Partnerships with others—these are still formulating for me but I have had lots of people want to get on board with me and create programs or travel. I am about to embark on a trip to South Africa with a friend who has been a major cheerleader for my biz ideas and is a seasoned traveller.
It really helps having others involved in your dream. It's important to hook up with others and make connections that are meaningful and concrete as you go. Otherwise you tend to feel a bit lost.
What do you miss most that you didn't (or couldn't) bring with you?
Pets. But you can always find animals to have a pat or chat with. It's just a planning thing. On my next trip I am going to work with elephants in a volunteer capacity because I recognized that for me as a vegan activist, the animal connection is very strong and I need to nurture it. Whatever your dream, passion or creative needs are, you need to find a way to nurture them so that your life goes on.
I also miss my piano very much. I love playing piano and having access to pianos on the road here and there wasn't very satisfying. Again, it's a matter of planning. I could organise to find rooms with pianos to hire as I go and that could be a really fun way of meeting people. I could offer singing lessons as an exchange. Imagine the people I would meet. It's good to get creative.
What is the most challenging aspect of this lifestyle?
I find eating the way I prefer challenging. I'm a 5 veggies/2 fruits-a-day club member and although this is simple it's so much easier to reach for rubbish when you are tired and traveling. I recognize it's again just a matter of planning. Budgeting. Tracking everything is even more important on the road and yet I find it even harder. I've never been a great tracker. I know I need to just schedule it in and discipline it further.
What's the most satisfying?
Meeting new people and seeing that everyone everywhere wants the same things out of life is very heart warming and growth enhancing. It's wonderful talking to someone from another culture. There's a kind of joy of two different worlds meeting. I love learning new things through contact with people.
My learning curve is accelerating hugely. Although I probably didn't realise it at the time, travel is more transformative than self-help groups, etc. Not only because of what you learn and who you meet but also because of your own ability to steer yourself through stressful situations where you sometimes don't know what is going on. When you are unsure of where you are and what to do, you HAVE to rely on trust and your inner voice.
What advice would you have for others who are hoping to do something similar?
1. Know your passion in life and keep it alive as you travel as a kind of focus and way of magnetizing people and events to you to help you grow. There's a difference between tourism and travel. I think the difference is that travelers don't just visit places, the places become a part of them.
2. Figure out a really good financial accounting system that is not too complicated and that will work on the road. Track spending and try and review your budget every couple of days on the road. You need to do more tracking when mobile. If you can't do that stuff (ME!) then hire someone to keep on an eye on it for you. A cheap bookkeeper is worth it. Have a financial plan in terms of where your dreams and ambitions are going and your 'ultimate' income lifestyle and review and read this every few days for inspiration and focus.
3. For your first three months, have someone you can talk to in emergencies or low periods. I worked with Amy during this period and found that it really, really helps to be connected to people who know what is going on for you and share the dream.
4. Making mistakes is not only okay but probably inevitable. Be prepared for them and forgive yourself when they come. Know who your support network is. Make sure your credit card company is prepared for phone calls from you from overseas. Have a professional at hand to guide you if you need it.
Would you rather spend one month in a place you've been to before, or 24 hours somewhere new?
I'd choose the month. I find a month is a really good time slot to become part of a place. You get to know people, integrate and feel like a local. I love that feeling of living in an overseas community and becoming a part of it, it is absolutely the highlight of travel. I've done it a few times now—Bali, Egypt, Malaysia, south of France—and it's wonderful.
Thanks for sharing your story, Meaghan!
Get the Top 10 Logistical Things You Need to do before becoming a nomad
(That Aren't What You Think)
When you download the guide, you'll also be subscribed to the Nomadtopia newsletter. Your email is safe with me and you can unsubscribe anytime. View our Privacy Policy.