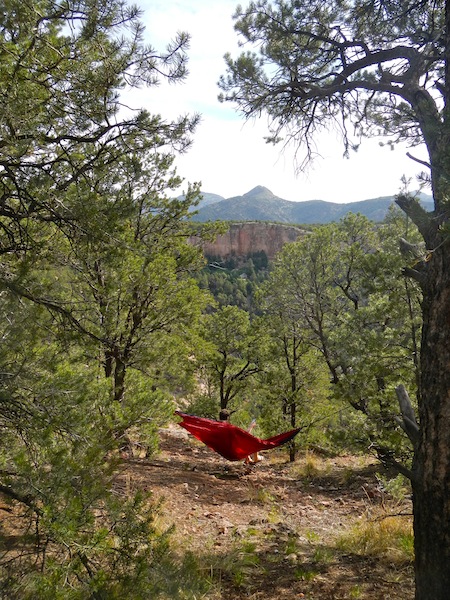 Is Starting a Business While Traveling a Good Idea?
May 17, 2013 | Nomad Life, Work & Business
This is a guest post by Rebecca Tracey of The Uncaged Life.
I'd always had dreams of traveling and being able to work at the same time. I envisioned myself lying on a beach with my laptop, money rolling in, laughing at all the chumps sitting in cubicles.
After years of trying to find the perfect career that would let me do this, I decided to take matters into my own hands and create one myself. I started my coaching business and decided to finally make my dream life happen.
After just four months of being in business, I bought a van and took off on a seven-month rock-climbing road trip (I figured it was better to live the dream sooner rather than later).
I learned a lot on the road about what it's like to start a new business while traveling full-time. It is extremely rewarding, but it doesn't come without its challenges.
Here are the biggest things to keep in mind if you're planning on growing a new business while you travel.
1. Be clear about your expectations for yourself.
I figured I'd have all the time in the world to work on my business while I was on the road. Turns out my expectations were a little… ambitious.
I neglected to think about the fact that I might be more inspired to explore and play and climb than I was to work. Which is exactly what happened. I got stressed out by not meeting my very high expectations, and it got in the way of actually enjoying my trip—which is the whole point, right?
Decide on the minimum work that must be done each day/week while you're away, and don't get too ambitious. You must accept the fact that if you're just starting out, your business needs your full-time attention, and if you can't give it that, it's going to grow more slowly. And there is nothing wrong with that!
After all, the whole point is to enjoy your travels, not spend hours in front of your computer.
Some good questions to get clear on:
What amount of work MUST get done to keep things moving forward?
How much time do you want to spend working vs. not-working?
How much money do you NEED to be making from your new business while traveling?
What is the bare minimum that you must do to meet this need?
Then decide how much work you will do, and be OK with it. Once things are up and running you will be able to back off the work a little. At the beginning, it's hustle time. But if you're traveling, you can't really hustle, so lower your expectations and go for the slow and steady method.
2. Plan ahead.
Because your business is just a brand-new baby, you may not have all your systems in place yet. Get them sorted out before you leave! Automation tools like Hootsuite will be your best friend.
When you're growing a new business, your priority should be to stay consistent. You need to get that momentum going, so you can't disappear off the face of the planet for weeks at a time (yet—that is possible later, when your business is booming!).
Decide on a blogging and social media schedule ahead of time, and work your butt off before you leave to implement it. Try writing four blog posts and scheduling them for the next month. Then create shortlinks for them, and schedule your Facebook posts and tweets accordingly.
The goal is to have it look like you never left your computer. You want to stay engaged and active with your people, and posting even on days when you aren't working will help them remember that you actually exist.
When you're just getting started, consistent presence is crucial, and having all systems go will make it so much easier for you.
3.  Take days off.
Be sure to schedule in days where you will do NO work, and let yourself be OK with that. Sometimes these might be travel days, where you'll be in buses/boats/cars/planes all day. But sometimes they should be FUN days. Relax and let yourself fully enjoy a day off without worrying about what still has to be done.
It's WAY too easy to want to work every day, 60 hours a week, on your new business, because you're excited about it! And because let's face it—the work never ends. But you will crash and burn, and ruin your trip altogether.
These mental vacation days will help recharge your creativity, clear your mind, and reenergize you once you do get back to work. Schedule non-work days into your calendar, and make it a part of your long-term business plan to take days off. Your business will thank you in the end.
4. Put client systems in place before you go.
This requires a lot of work, but will pay off. When you first start a business, there are all kinds of little things to think about. Do you need to send your new clients an intake form before they start? How will they book their sessions with you? What about invoicing? Any exercises or worksheets you will be giving them during their time with you?
If you can have all that stuff ready to go before you leave, you'll save oodles of time.
The best way to do this is to walk yourself through the client process. Pretend you are a client and go to your website with the intention of hiring you. Follow the steps through until you actually finish with the client, and take notes of any documents or systems you will need to put in place.
I spent way too many hours on my trip going back and forth with clients to schedule them in, getting their prep work ready and sent off, creating homework exercises for them—and it was just a lot of busy work. Get that stuff in place before you go. It's a pain in the ass and a lot of work, yes, but it's worth it!
5. Have fun and be nice to yourself.
OK, this one may seem a little redundant—isn't fun the whole point of this lifestyle!?
Remember not to take things too seriously. If you miss a few days of work, it's no big deal. If you miss a few weeks of work, still no big deal. The main objective is to create your new business YOUR way. If that means taking it slow and growing in baby steps while you're away, then let it happen.
The more you stress about trying to do it all at once, the worse you will feel. It's enough pressure to start a business when you're working on it full time, let alone while you're trying to enjoy your newfound freedom of traveling at the same time.
Go easy on yourself, and let yourself be where you are. This requires you to constantly check in with yourself and ask yourself what you REALLY want to be doing right now. If the answer is "I just want to lie in this hammock and do nothing," then do it. In the long run, it'll be better for your business.
And when the time comes to hustle your business, trust that you will.
It's all about consistency and small steps that lead to big results when you're just getting started. Traveling definitely has its perks (e.g., working from that hammock on the beach), but as a new business owner, it will take an adjustment period before your business is running smoothly enough to really enjoy your travels. Be realistic in your expectations, schedule your work ahead of time, get all your systems in place before you go, take days off, and be kind to yourself along the way, and your new business will grow smoothly and steadily while you're away.
Get the Top 10 Logistical Things You Need to do before becoming a nomad
(That Aren't What You Think)
When you download the guide, you'll also be subscribed to the Nomadtopia newsletter. Your email is safe with me and you can unsubscribe anytime. View our Privacy Policy.