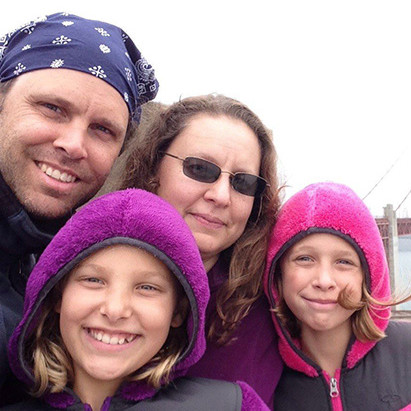 Have You Tested Out Your Ideal Lifestyle?
March 12, 2014 | Inspiration, Interviews, Nomad Life, with kids, Work & Business
I often suggest to clients, friends, and anyone who's nomad-curious that they do a trial run to see what it's really like.
A test drive is one of the best ways to figure out your preferences and what works for you. And, if you have a family and/or a business you want to take with you, it's even more important.
Last summer, Christie Halmick of Jewels Branch and her husband, Jamie, who is also an entrepreneur, packed up their businesses and their twin daughters and headed west on a three-week road trip.
Here's her story:
My family and I tested out the nomadic, location independent lifestyle, following Amy's suggestion to do a trial run.
I was doubtful that we could make it work: two kids, two online entrepreneurs, three weeks traveling down the west coast of the U.S. with laptops in tow.  
We had been postponing trying out location-independent living because we thought we needed an Airstream to even get started. But by doing a test drive we learned so much about what works best for our family and businesses and nomadic dreams.
We covered over 5,000 miles in three weeks, switching between camping and hotel stays. I found the days without internet access, when we were camping in the redwoods and at Yosemite, frustrating. It took me a few days to wind down and be at peace without the connection.
We felt like the pace and itinerary we'd set for ourselves was too fast to do all the sightseeing we wanted, to be able to relax, and tend to our businesses at the level we usually do.
We spent a lot of time at McDonald's using their free wifi to check and respond to messages. (The unexpected bonus: by the end of the trip our kids were tired of McDonald's and grumbled when they saw one.)
I don't think that we'll ever give up having a home base, at least while the kids are still in grade school. I missed working in my garden. We missed our dog. The kids made us promise we would never be away from home on 4th of July again because they missed hanging out with their cousins. But we do want to travel with our kids and be able to run our businesses well at the same time.
So, next summer we're going to rent a house somewhere along the coast for an extended stay. This will eliminate the packing-up-camp process and McDonald's visits while giving us longer periods of time to devote to sightseeing and business.
We still see an Airstream in our future and international travel, but first we're going to test out being away from home for a month and see how that feels to us all.
Thanks for sharing your story, Christie!
Get the Top 10 Logistical Things You Need to do before becoming a nomad
(That Aren't What You Think)
When you download the guide, you'll also be subscribed to the Nomadtopia newsletter. Your email is safe with me and you can unsubscribe anytime. View our Privacy Policy.