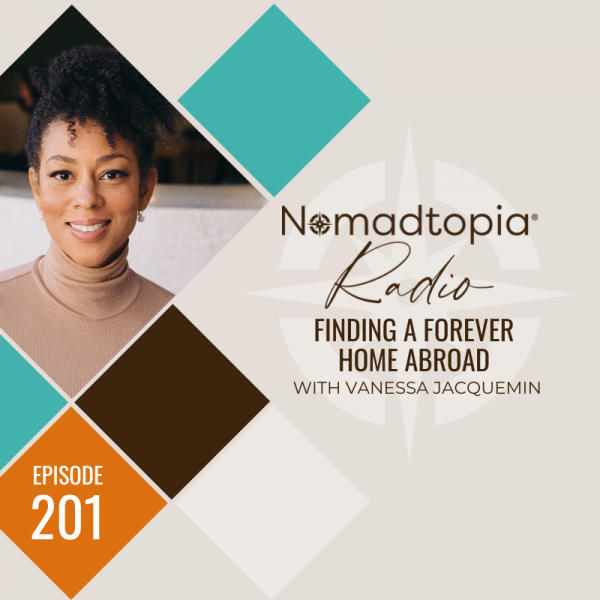 Finding a Forever Home Abroad with Vanessa Jacquemin
February 1, 2023 | Interviews, Nomad Life, Podcast, Well-Being
Finding a forever home certainly isn't a priority for all nomads. While some are on an intentional search, others actively spurn the idea of home—or they end up finding it when they least expect it and a location they visit just suddenly clicks. As I always say, there's no one way to approach the nomad journey.
In this episode, I'm chatting with Vanessa Jacquemin, an online business strategist who left her original home in the United States more than 20 years ago and recently found her forever home in Mexico. She shares her process for finding the right home for her, how becoming a mother shifted her point of view, and her advice for others wanting to embark on a nomadic journey. 
Whether you're ready to step out into the world as a nomad, or you're searching for a forever home as a current nomad, just get started. Wherever you are, you can make a change towards your happiness, whether it's something big like starting a virtual business that allows you to move or something small like taking a vacation and seeing if that sparks something within you.

Vanessa's history of traveling and living nomadically from age 21, and how she has now found her forever home in Mexico

What Vanessa considered when looking for a forever home and how living multiple places helped influence her decision

Her experience as a Black person living in Mexico

Vanessa's thoughts on the best way to set yourself up to be able to move abroad

How becoming a mother shifted her perspective on what to look for in a place to call home

The importance of making a change, even a small one, towards living your happiness
Get the Top 10 Logistical Things You Need to do before becoming a nomad
(That Aren't What You Think)
When you download the guide, you'll also be subscribed to the Nomadtopia newsletter. Your email is safe with me and you can unsubscribe anytime. View our Privacy Policy.