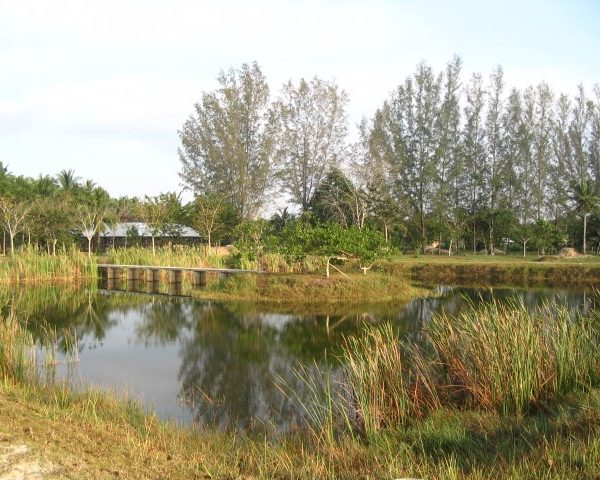 Inside Nomadtopia: 10 Days of Silence
June 5, 2014 | Inside Nomadtopia
"Welcome, every good friends."
As soon as the Thai monk seated at the front of the room spoke, I knew it was the same monk I had listened to nine years ago on my last retreat.
I had forgotten all about him, but suddenly a barrage of memories hit me from the last time I had sat on a meditation cushion and listened to Ajan Poh talk about Buddhism and the "mickden way" (which, once again, took me quite a few minutes to decipher as the "middle way"). I was grateful that at least this time our cushions were placed on the soft(ish) sand in Meditation Hall 5, instead of the unforgiving concrete floor of Meditation Hall 2, where I spent so many hours in 2005.
On the morning of Day 1, as the bell rang out at 4 am and I rose from the wooden slab where I'd (fitfully) slept, it was as if not a day had passed since I last did the same. I would have many moments of deja vu throughout the retreat, but it was also a new experience in many ways. Is it because I don't remember what happened last time, or because things have changed, or because I'm nine years older (and wiser)?.
For years, I had thought of returning to the International Dhamma Heritage retreat center near Surat Thani, Thailand, and when I thought about it, I always focused on the silence. It was what drew me there initially, too, when a friend told me about her retreat and I wondered: What would it be like to not talk, read, or write for 10 days? It's a difficult experience to replicate in normal life, and it was so fascinating the first time, I was eager to go back.
Somewhere along the way, I'd forgotten that it's a silent meditation retreat. Once I arrived at the retreat center and read the schedule, it sunk in: Oh shit, I'm going to have to meditate for hours and hours every day. It's probably a good thing I'd conveniently forgotten about that part, so it hadn't dissuaded me from returning, when actually it's exactly what I needed.
My mind, you see, tends to run in overdrive (even more than my mouth does, which is saying a lot!). I know meditation would help calm things down, yet I've never gotten into a very regular practice.
Needless to say, spending 10 days focused on quieting that mind, while also going further inward by not sharing my thoughts with anyone else, is a powerful experience. On the retreat, I (re)discovered that as my mind gets quieter, I feel calmer, less stressed, more confident, and more focused.
Although I acknowledged that meditation was what I needed, that didn't make it any easier! I was frustrated to find myself spending the majority of each meditation session falling asleep or dealing with my foot or leg falling asleep. If I wasn't falling asleep or struggling with the pins and needles in my legs and feet, my mind was drifting back into overdrive, writing blog posts, pondering our next travel plans, brainstorming features for my new offering, and on and on.
Strangely, I found that my mind was less active the rest of the day; I'd often find myself eating, walking, or just sitting around and notice that I hadn't been thinking of anything in particular. Then, I'd get settled on that meditation cushion again, and my mind would see it as the perfect opportunity to get some thinking done!
On Day 6, I had a private interview with one of the monks, and the meditation session I had right after our conversation was a revelation. I finally found a comfortable sitting posture, finally found a way to focus on my breath without counting or otherwise narrating what was happening, finally found a way to not fall asleep constantly. Of course, it didn't last, and I still struggled in other sessions going forward—a great lesson on the impermanence of life that we were hearing about in the monks' chats.
Just as I had found on my first retreat, the silence was the easy part. With no one else talking, there's no need to respond to anything, although I did occasionally want to share some particular moment of magic with someone, like when I saw a frog hopping across the path at dusk, or a snake slithering into a pipe on the side of Meditation Hall 1, or another gorgeous sunset.
Much of our day was structured and scheduled, but there was some free time each day for chores, bathing, laundry, naps, etc., and those were some of the hardest times of the day for me. Sometimes I was busy trying to squeeze all of the above into a one-and-a-half-hour break, but other times I finished what I needed to do in 15 minutes and had way too much time on my hands (and didn't want to nap because I thought perhaps that was making me more sleepy).
For someone who's almost always doing something, and often communicating with others (in person or online), having nothing to do and no one to talk to was outright boring a lot of the time, but I did find ways to amuse myself by observing something in nature or just watching the people around me.
A traditional Vipassana course doesn't include any movement, and I was thankful to have an hour and a half for yoga each morning as the sun rose. It was a great way to wake up and to work out all the kinks that inevitably develop while sitting in meditation (and lectures) for hours on end, not to mention sleeping on a wooden platform with a wooden pillow. (Apparently Buddha himself used a wooden pillow. It's actually pretty comfortable if you're lying on your back, but not so great if you want to curl up on your side!)
Ten days is a long time; it dragged on and on yet flew by. Over time, each of the retreat participants settled into his or her own routine, and the community became even quieter and moved more slowly as each of us became more mindful.
Of course there's much more I could say, but I'll stop here to keep this from getting too long. Here's a follow-up post about my reentry and takeaways from the retreat.
Get the Top 10 Logistical Things You Need to do before becoming a nomad
(That Aren't What You Think)
When you download the guide, you'll also be subscribed to the Nomadtopia newsletter. Your email is safe with me and you can unsubscribe anytime. View our Privacy Policy.