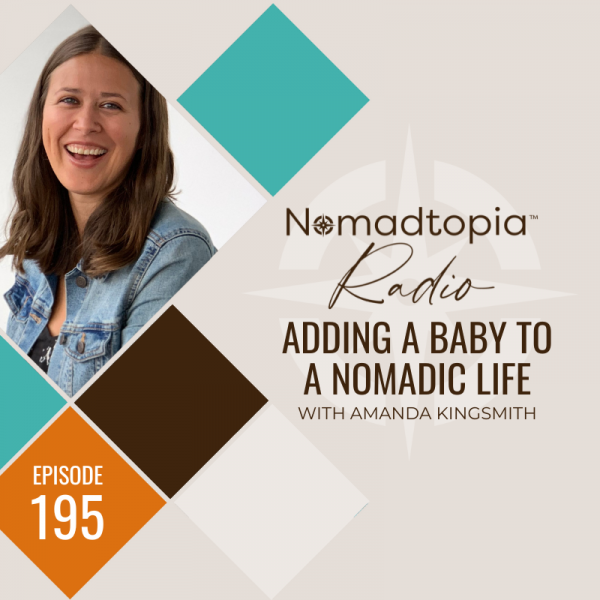 Adding a Baby to a Nomadic Life with Amanda Kingsmith
September 7, 2022 | Podcast
There are a lot of decisions to make when it comes to starting a family as a nomad. Your priorities change, you have to plan differently, you might miss some adventures. There's no question that having a baby (or two, in my case!) changes your nomad experience.
In this episode, I'm chatting with Amanda Kingsmith, who currently lives in Mexico with her husband and new baby. She shares their experience planning for and shifting into this next phase, deciding when to stop traveling and where to give birth, and balancing their child's needs with their nomadic lifestyle.

What it's like for Amanda being in a more stable chapter of her nomad life

How and when she first become location independent

Amanda's primary income streams

How and when Amanda and her husband decided to start a family

How trying to get pregnant affects nomads' choices

How Amanda navigated where to give birth and where to live

What she thought life would be like with a baby and how that experience has panned out so far

How their kids will impact their lifestyle in the future

What it has been like traveling with a baby


Resources we talked about
Note: Links with an asterisk are affiliate links, which means you may receive free credit or another bonus and I may earn a small commission or other benefits if you sign up/purchase using that link. There's no additional cost to you, of course!
Get the Top 10 Logistical Things You Need to do before becoming a nomad
(That Aren't What You Think)
When you download the guide, you'll also be subscribed to the Nomadtopia newsletter. Your email is safe with me and you can unsubscribe anytime. View our Privacy Policy.