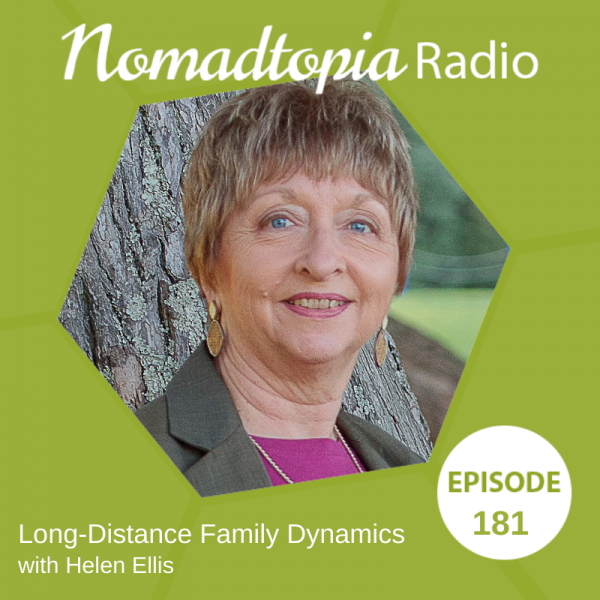 Long-Distance Family Dynamics with Helen Ellis
July 7, 2021 | Podcast, with kids
If you've stumbled upon this episode, you're probably already part of a distanced family or you will be as your life as a nomad unfolds. Leaving behind your family can be one of the hardest parts of setting off on your nomadic journey.
In this episode, my guest is Helen Ellis, founder of DistanceFamilies.com and author of Being a Distance Grandparent. Helen discusses some of the common challenges and emotions for distance families (as well as the benefits!), why it's so important for each generation to understand the others' perspectives, and lots more.
Helen talks about the different types of communication and the importance of rich encounters with your long-distance loved ones. You'll learn how to address the guilt that comes with leaving family behind and how to set up your family for success while you're living your nomadic lifestyle.
Helen's journey as a long-distance parent and grandparent

Why she did her thesis on distance grandparenting
The fear people have around this topic
What a rich encounter is
The 7 different types of communication
How to address the guilt that happens with distance
The 3 H's of progressive acceptance grandparenting (or parenting)
How to set the stage for a successful distance family experience
The benefits of this family dynamic


Resources we talked about
Note: Links with an asterisk are affiliate links, which means you may receive free credit or another bonus and I may earn a small commission or other benefits if you sign up/purchase using that link. There's no additional cost to you, of course!
Get the Top 10 Logistical Things You Need to do before becoming a nomad
(That Aren't What You Think)
When you download the guide, you'll also be subscribed to the Nomadtopia newsletter. Your email is safe with me and you can unsubscribe anytime. View our Privacy Policy.