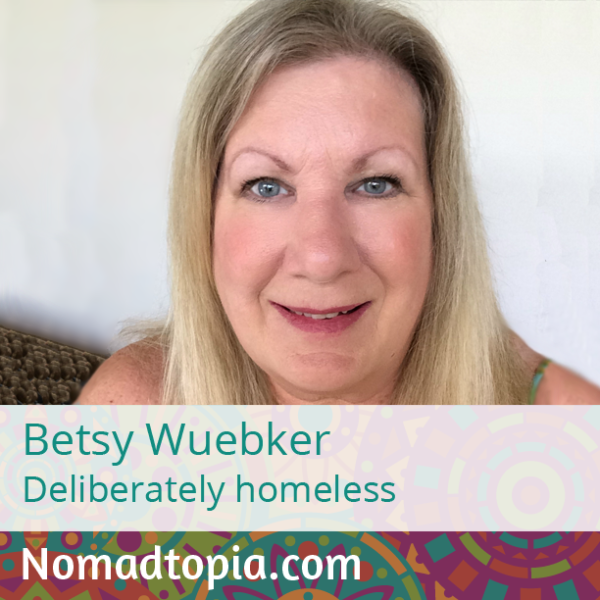 Betsy Wuebker: Deliberately homeless
October 29, 2014 | Podcast
Betsy Wuebker says she and her husband, Pete, are "just your garden variety baby boomer pre-retirees"—but there are at least a few things that make them unique. They've been location independent since 2011, and two years ago, they sold everything and moved to Hawaii. In September 2014, they took off again, this time for a two-year round-the-world trip.
Update from Betsy
This interview with Amy was recorded right before we left Hawaii to begin our round-the-world trip. We've been in Fiji for a couple of months now and we love it! Next up are a couple of house sits in Australia with a side trip to Singapore or New Zealand in between them. So happy to have chosen this life.
Most Memorable Location-Independent Experiences
It really doesn't get any better than living in paradise, unless it's all the travel we've done. Prior to this trip, which is really our big kahuna, we spent a month traveling through Europe on our way to the Winter Olympics in Sochi. That was the trip of a lifetime (so far).
Biggest Surprise along the Way
We didn't really prepare for naysayers or less-than-supportive opinions on our decisions. But we've come to understand that this is all part of the process.

Why they decided to leave paradise and travel for two years
Packing and preparing for long-term travel
Why they're starting their travels in Fiji
Ins and outs of house-sitting
Dealing with naysayers
What their 20-something kids think
How they fund their lifestyle
And much more

Resources we talked about
Note: Links with an asterisk are affiliate links, which means you may receive free credit or another bonus and I may earn a small commission or other benefits if you sign up/purchase using that link. There's no additional cost to you, of course!
Get the Top 10 Logistical Things You Need to do before becoming a nomad
(That Aren't What You Think)
When you download the guide, you'll also be subscribed to the Nomadtopia newsletter. Your email is safe with me and you can unsubscribe anytime. View our Privacy Policy.