Inside Nomadtopia: Día de los Muertos in Mexico, Part I
November 4, 2014 | Inside Nomadtopia, Nomad Life, Photos, Videos
Saludos desde México!
When we were making our plans for Mexico, I realized our possible timing was close to Día de los Muertos (Day of the Dead), which is a huge holiday, so we made sure to schedule our flights so we'd arrive in time to celebrate with the locals.
We were planning to spend two days in Mexico City first, which was cut in half due to storms and flight delays in Buenos Aires (that's a story for a whole other blog post!), but we still arrived in time to catch our bus to San Miguel de Allende on Friday, October 31 (Halloween). At the bus station, many of the bus company employees were dressed up in costumes (I asked Frankenstein where we could drop off our bags).
We arrived in San Miguel and were greeted by our lovely Couchsurfing host, Jayne, who has lived here for several years and invited us to tag along that evening. It was such a whirlwind that I didn't end up taking any pictures, but we got to meet some interesting people, orient ourselves a little bit, and get a taste of the festivities to come over the weekend. It was kind of a mix of Halloween and Día de los Muertos, with some people in Halloween-type costumes, some people with faces painted for Day of the Dead, some kids collecting candy, and some special festivities happening around town.
Día de los Muertos is not a sad or gloomy holiday in Mexico; it's a chance to honor one's ancestors, and to celebrate their lives by making offerings of their favorite foods and more. It's colorful, lively, and festive.
Saturday during the day, Jayne and I went exploring and saw some cool altars and art installations around town, plus I got to venture a bit further afield, including to the weekly organic market and the largest park in town.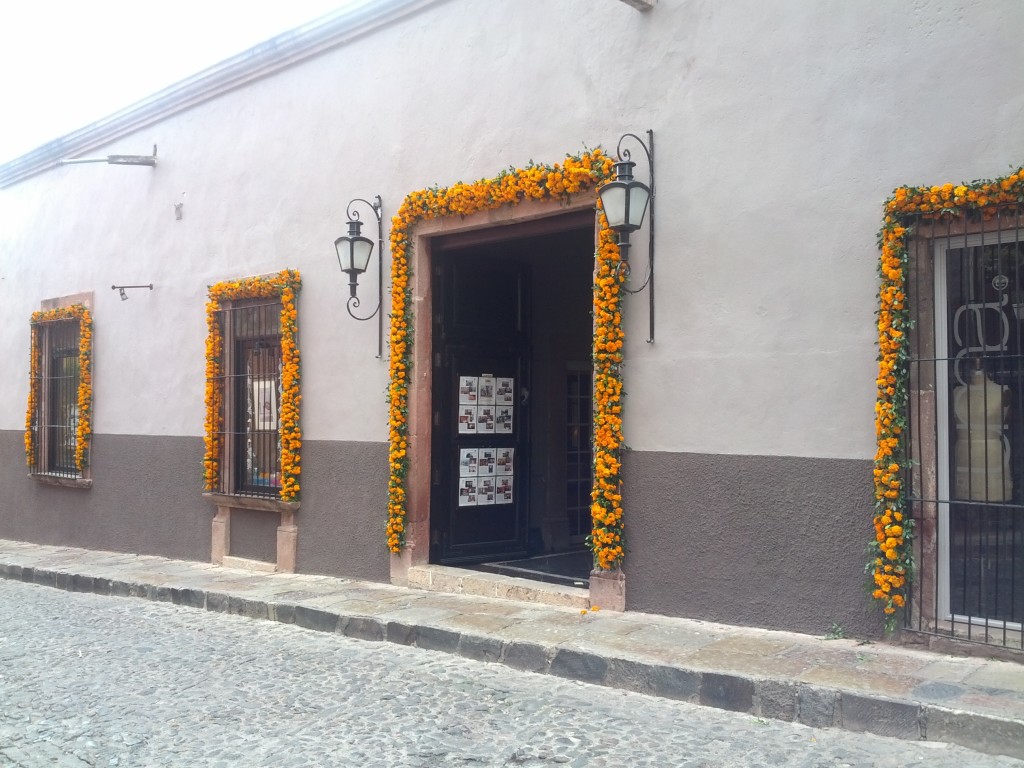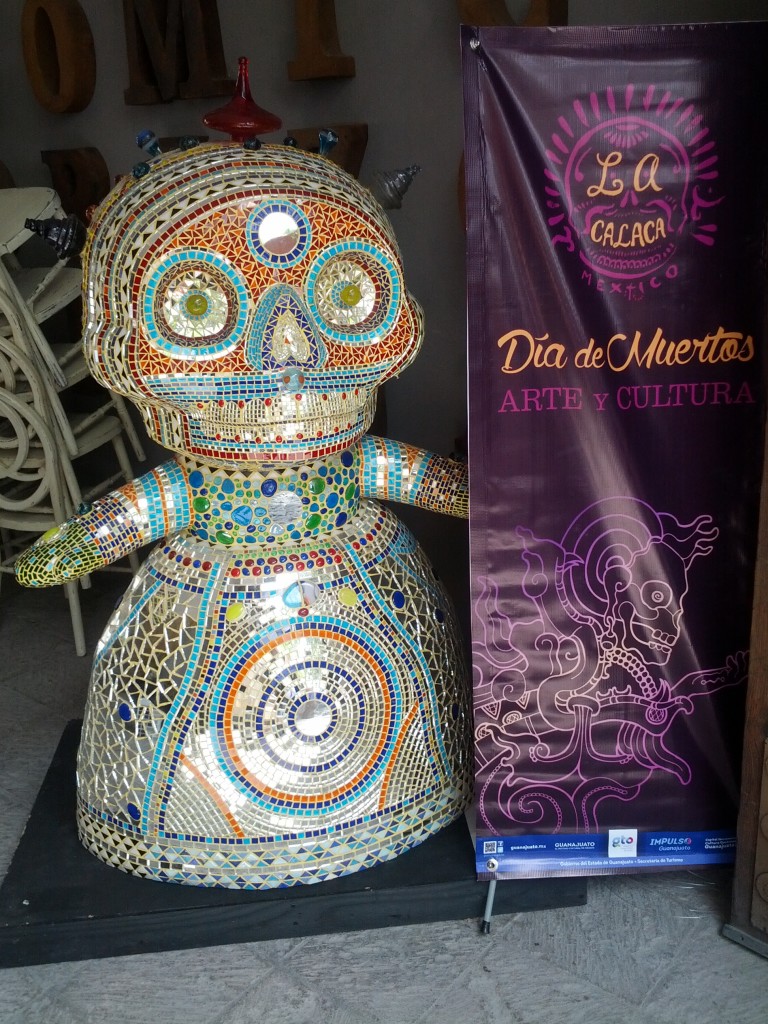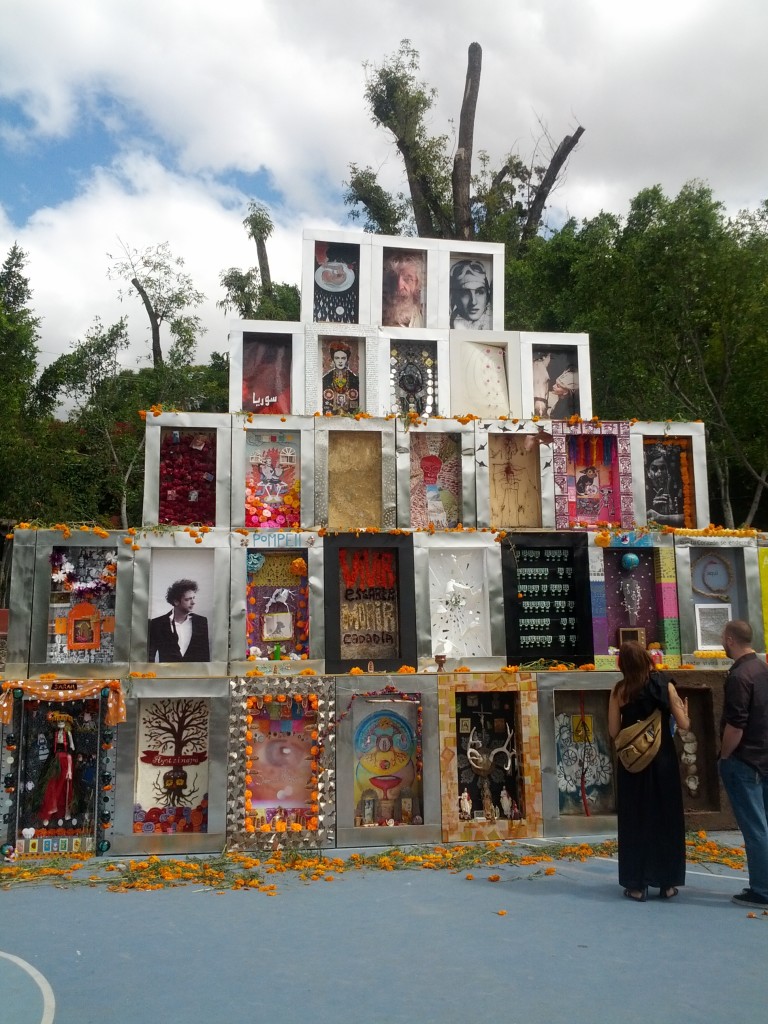 On a side note, the food so far has been amazing. Mexican food is one of my all-time favorites, but not widely available in Asia or Argentina, where I've spent most of recent years, so now being able to eat Mexican food anytime I want is pretty awesome.
Later in the day, Roberto and I headed out to the jardín (main plaza) to see if we could get our faces painted, which is something people of all ages do for Día de los Muertos.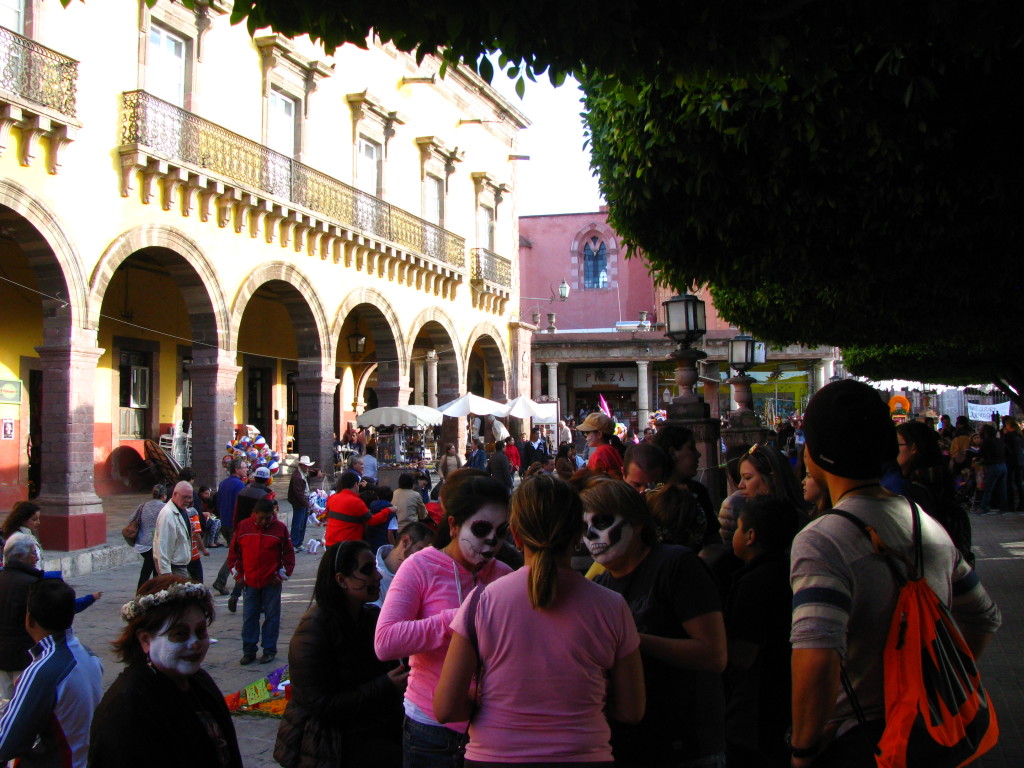 We definitely weren't the only people with this idea, and the plaza was crowded with people painting, being painted, and waiting to be painted. We ended up having to wait more than two hours, and they were tired, rushed, and working in the dark by the time they got to us, but it was still worth it! Even though our face paint and our get-ups weren't nearly as fancy as some, all night people would stop and ask if they could take our picture. It was fun to feel like we were part of the action, and we even went to dinner with our faces painted.
As far as I understand, part of the reason for the face painting is to mimic the image of the calavera catrina, a female skeleton dressed in elegant clothing, with a long dress and a big hat, which is one of the primary symbols of Día de los Muertos. I've been told that it represents the materialism we can't take with us when we die, as well as the Mexicans' view of death and the joy of life in the face of death. (Here's a good article about La Catrina and some great images of catrina folk art.)
So the big event on November 1 is the catrina parade, when everyone gathers in the main square with faces painted and wearing all kinds of finery. Interestingly, it seemed that foreigners had some of the most elaborate get-ups, but overall the crowd was very mixed and everyone seemed to get along and enjoy themselves. (I've since read some interesting discussion about this on an expat message board, suggesting that some of the locals think their tradition is being bastardized, but if that's the case, it didn't look that way to my just-arrived eyes.)
The next day, we went to the cemetery, where everyone goes to honor their ancestors by decorating the graves with an insane number of flowers, and the whole place takes on a colorful, festive atmosphere.
Get the Top 10 Logistical Things You Need to do before becoming a nomad
(That Aren't What You Think)
When you download the guide, you'll also be subscribed to the Nomadtopia newsletter. Your email is safe with me and you can unsubscribe anytime. View our Privacy Policy.