Dustin didn't let having a local business stop him from realizing his travel dreams. He took off on a one-year round-the-world trip and is still traveling five years later. Now he runs several businesses from the road (including that local one back home) and, after many years of nearly non-stop travel, he is planning to build a tiny house that will be his home base in Canada.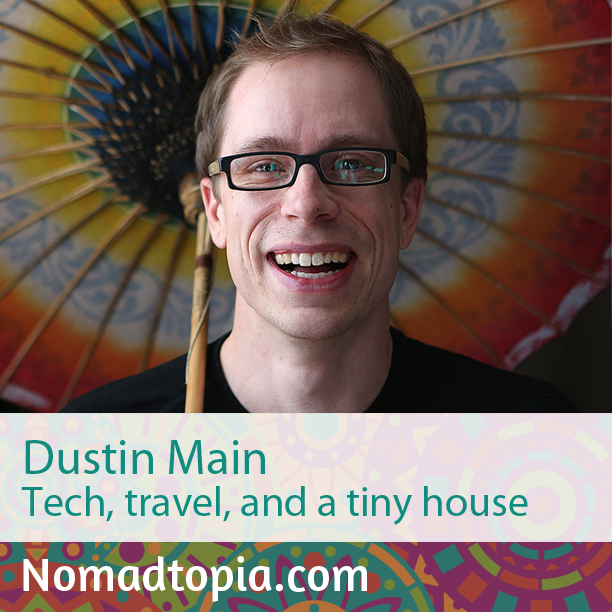 In This Episode
How he set things up so he can manage his local business from the road
Spending time offline as an entrepreneur
Tech tips for nomads and online entrepreneurs
His Myanmar Stories documentary project
Traveling in Myanmar
Raising money for One Girl through Do It in a Dress
Deciding to build a tiny house
The amazing story behind one of his photos (look under Asia)
And much more
Most Memorable Location-Independent Experiences
One of the best parts of becoming location independent is how I've been able to share the world with my mother and father. In the past seven years, my father and I have met for adventures on six continents, and I've taken my Mom on a pair of amazing trips, including an epic trip to Myanmar for her 60th birthday. Later this year, I'll take her to Iran.
Biggest Surprise along the Way
After five years, how I've begun to long for a base of some sort. It's hard to move forward and keep energy going when you spend long amounts of time on the road, particularly if you're often on the move. This is certainly the case when it comes to relationships and fostering them. Later this year, I plan to build a tiny house in Canada where I can live for a few months of the year, and have a residual income coming in from the rest of the year.
Resources We Talked About
Subscribe to Nomadtopia Radio for Free
  
You can also add Nomadtopia Radio to your RSS feed: http://nomadtopiaradio.libsyn.com/rss
Enjoying Nomadtopia Radio?
Please leave a review in iTunes to help more people find us! (Find out how.)