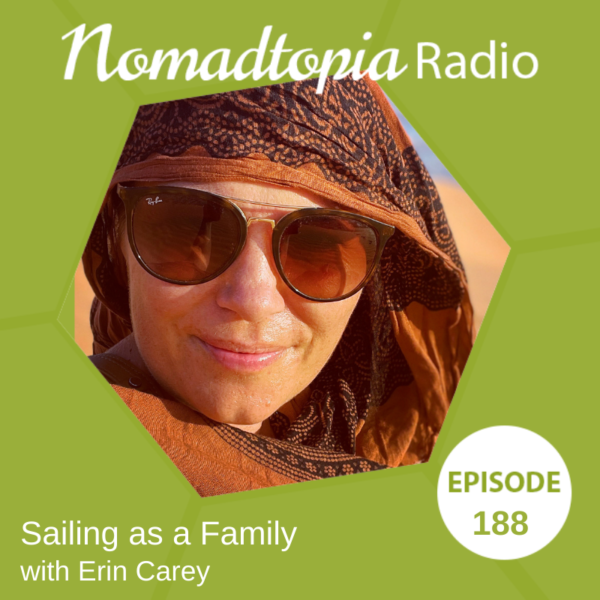 Sailing as a Family with Erin Carey
February 2, 2022 | Podcast
Nomadtopia Radio is all about showing you that there's more than one way to live a nomadic life. Even the most unlikely people can become full-time travelers or create their own unique version of a location-independent lifestyle.
In this episode, I'm joined by wife, mother, business owner, and full-time sailor Erin Carey. She shares her journey from suburban Australia to living on a yacht with her husband and three children. We talk about the realities of living on a boat at sea or in a marina, how she balances family and work, and her advice for anyone considering a similar courageous leap.

How Erin and her family came to live on a yacht with no prior sailing experience
The resources and research Erin turned to at the beginning of her journey
How your daily life and community changes as you travel around the world
How Erin creates balance between her family life and her business
Why even full-time nomads should create routines that work for them
How Erin runs her business from all over the world
How entering a country on a boat is different from flying or driving
How COVID-19 has affected Erin and her family
What to consider before you and your family commit to a nomadic lifestyle

Resources we talked about
Note: Links with an asterisk are affiliate links, which means you may receive free credit or another bonus and I may earn a small commission or other benefits if you sign up/purchase using that link. There's no additional cost to you, of course!
Get the Top 10 Logistical Things You Need to do before becoming a nomad
(That Aren't What You Think)
When you download the guide, you'll also be subscribed to the Nomadtopia newsletter. Your email is safe with me and you can unsubscribe anytime. View our Privacy Policy.