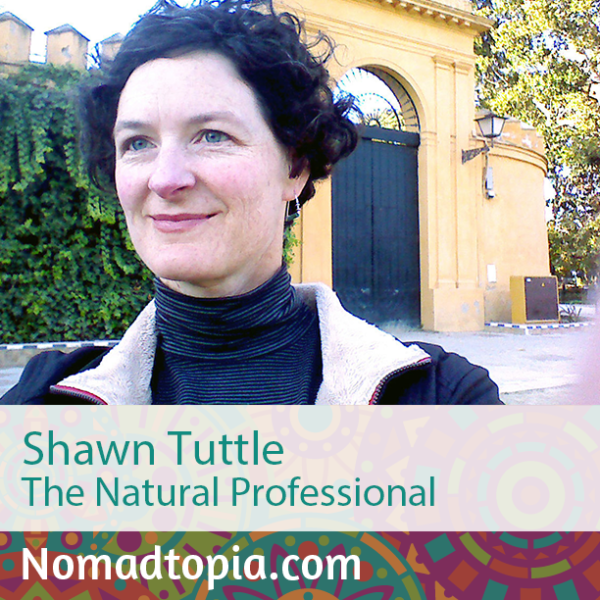 Shawn Tuttle: The Natural Professional
November 18, 2015 | Podcast
In 2013, Shawn rented out her house, got rid of most of her stuff, and shifted to an online business model. Ever since, she has been wandering the world while running her coaching business. She's passionate about the work she does, and she's passionate about exploring new places, so she takes an intuitive approach to deciding when to move and when to stop.
Note: Some of the language in this episode may not be suitable for work or children!
Most Memorable Location-Independent Experiences
Traveling has opened me up to a whole new way of meeting peeps. Travelers are open and ready to connect. There seems to be an undercurrent of gratitude and quick camaraderie that makes me feel like I'm a part of a larger community. I've found that I've become more welcoming and proactive in meeting people all the time.
Along those lines, one of my most memorable experiences was randomly meeting Warren and Betsy Talbot in Guanajuato, Mexico. I didn't know who they were or anything about them. They were renting a place for several months there and they welcomed me into their community with huge smiles and one of the most welcoming attitudes I've ever experienced. I remember thinking, I've found my people!!
Biggest Surprise along the Way
I didn't realize how much mental energy it would take to travel. So many decisions! Since I'm a solo traveler, all the decisions are up to me, and sometimes I just don't want to think about where to go or what to do in the next few days.
I've also found it really challenging to travel and get significant amounts of work done—which, happily, is compatible with my slow-travel preference.
Bonus
It turns out Shawn and I were both in relationships at the time we decided we wanted to uproot our lives and start traveling. What happened next? Tune in as Shawn and I go deep on how our relationships ended (in totally different ways), why we made the choices we did, the value of doing test runs before traveling together long term, and lots more. Download here for just 99 cents.

Realizing what needed to change
Not being hindered by owning a house
How she makes money + her business model
Managing and setting expectations with clients
Why self-awareness is important for nomads
The daily routines that support her lifestyle and her work
Shawn's take on productivity
Removing the "shoulds" around how we spend our time
And so much more


Resources we talked about
Note: Links with an asterisk are affiliate links, which means you may receive free credit or another bonus and I may earn a small commission or other benefits if you sign up/purchase using that link. There's no additional cost to you, of course!
Get the Top 10 Logistical Things You Need to do before becoming a nomad
(That Aren't What You Think)
When you download the guide, you'll also be subscribed to the Nomadtopia newsletter. Your email is safe with me and you can unsubscribe anytime. View our Privacy Policy.