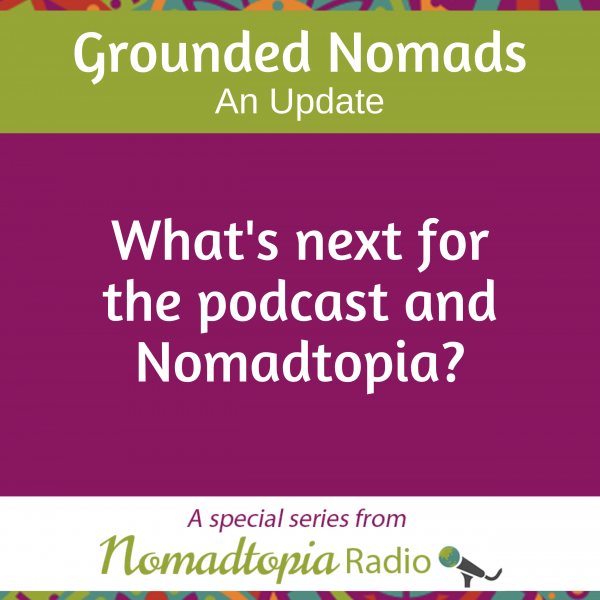 Grounded Nomads: An Update
July 3, 2020 | Grounded Nomads, Podcast
Learn more about the Grounded Nomads series here.
Tune in for a brief update on Grounded Nomads and the latest from Nomadtopia. Or just read the transcript below! 🙂
I've enjoyed these conversations and gotten a lot of great feedback, but unfortunately the pace I've been keeping with Grounded Nomads is becoming difficult for me to maintain, and I feel we've covered a lot of ground with the series already, so I've decided to shift back to "regular" episodes of Nomadtopia Radio. Some things will be changing as a result, and some things will be staying the same.
Before Grounded Nomads, I often recorded interviews months before they were published, but these days having a shorter lag time does seem important, so I plan to continue publishing episodes soon after the interview is recorded just as I have been with Grounded Nomads.
I'm sure we'll continue to talk about the pandemic on the podcast. As different countries go in and out of lockdown, and people from certain countries are restricted access to others, we'll all need to determine what's possible and what feels comfortable to us in terms of how we move around the world, where we go, and when. If any of my conversations with guests are particularly focused on their experience as a grounded nomad, I'll still publish them as part of the Grounded Nomads series. And as usual, all these episodes will be available under Nomadtopia Radio wherever you listen to podcasts.
I'm also going to be giving myself some more flexibility instead of sticking to a strict schedule with the podcast. I may release episodes more frequently than my once-a-month schedule of the last couple years, but I'm also not going to keep pushing myself to get them out weekly as I have been with Grounded Nomads.
In the meantime, this will give me an opportunity to finish my new program, Build Your Nomadtopia, which I mentioned a couple weeks ago when Jill Sessa interviewed me for Grounded Nomads. Build Your Nomadtopia is a six-month step-by-step program to help you thrive in a location independent lifestyle. It's for people who already know how they will fund their Nomadtopia, whether that's with their own business, remote work, or savings and investments—and I say this because this program will not help you figure out what business to start or how to build a business.
Build Your Nomadtopia WILL help you:
create a clear action plan to make your ideal lifestyle a reality
get all the guidance, support, tools, and resources you need to make it happen
develop confidence that you can thrive in your ideal lifestyle and handle anything that comes your way
and
connect with others focused on building their Nomadtopia
So that's all for now! New episodes coming soon, as well as more information on the Build Your Nomadtopia program. As always, you can go to Nomadtopia.com/radio for access to the Facebook group and free resources, links to contact me about Build Your Nomadtopia or the Collective, and lots more.
Take care, and I can't wait to see you on the road.
Get the Top 10 Logistical Things You Need to do before becoming a nomad
(That Aren't What You Think)
When you download the guide, you'll also be subscribed to the Nomadtopia newsletter. Your email is safe with me and you can unsubscribe anytime. View our Privacy Policy.
Get the Top 10 Logistical Things You Need to do before becoming a nomad