After spending several years doing virtual assistant work online while traveling, Hannah Dixon began her own business training and placing virtual assistants. In this episode, Hannah gives us the inside scoop on working successfully as a nomad along with her tips for taking care of mental health and happiness while on the road.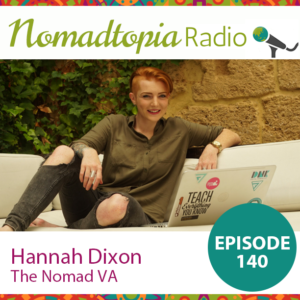 In This Episode
What does a virtual assistant do?
How to become a virtual assistant
Keeping clients happy while you travel
Figuring out if this type of work is right for you
Dealing with depression and loneliness on the road
Making sure your lifestyle works for you
And so much more
Join the Conversation!
What ideas or topics resonate with you from this episode? What questions does it raise?
Leave a comment below, or continue the conversation in the Nomadtopia Facebook group.