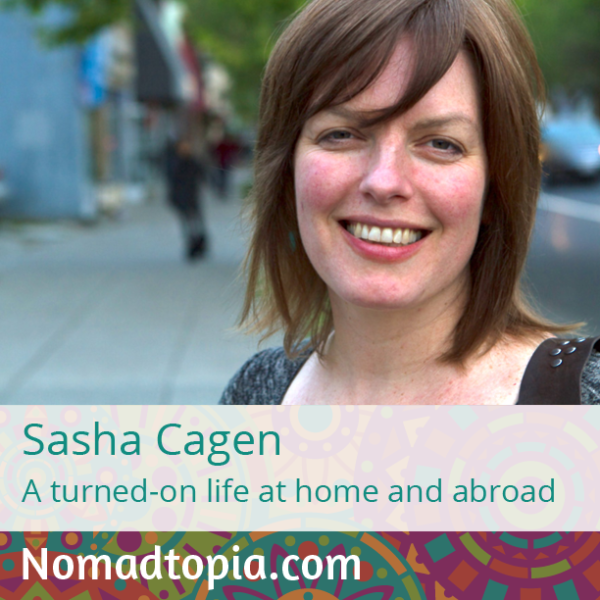 Sasha Cagen: A turned-on life at home and abroad
October 15, 2014 | Podcast
Writer and coach Sasha Cagen's life looks very different than it did five years ago. Tune in to find out how she went from co-founder of a Silicon Valley tech startup (and creator of the Quirkyalone movement) to leading tango adventures in Buenos Aires and writing a memoir called Wet.
Most Memorable Location-Independent Experiences
Hosting the Tango Adventures in Buenos Aires, and finding such fabulous friends in Buenos Aires.
Biggest Surprise along the Way
It's not easy. That's not really a surprise, but it takes a lot of work. Also, I thought this lifestyle might be a problem with developing a long-term relationship, but I find that my current partner is much more accepting than I thought he would be.

What a "life churn" is and why she sought one out
What attracted her to Brazil and how she ended up in Argentina
What Quirkyalone really means and how it relates to Nomadtopia
Intimate relationships and a traveling/unconventional lifestyle
Tension between adventure vs. stability, especially to produce creative work
Logistics of splitting her time between California and Argentina
Why tango is a lifelong study and a metaphor for life and relationships
How she created and now runs retreats in Argentina
And much more

Resources we talked about
Note: Links with an asterisk are affiliate links, which means you may receive free credit or another bonus and I may earn a small commission or other benefits if you sign up/purchase using that link. There's no additional cost to you, of course!
Get the Top 10 Logistical Things You Need to do before becoming a nomad
(That Aren't What You Think)
When you download the guide, you'll also be subscribed to the Nomadtopia newsletter. Your email is safe with me and you can unsubscribe anytime. View our Privacy Policy.