Inside Nomadtopia: Full Circle
April 15, 2013 | Inside Nomadtopia, Nomad Life
In September 2004, I boarded a plane to Peru (that's a photo of me with some of the members of my home-stay family).
I had just quit my job, and had enough money in the bank to not have to worry about finding another one for a while.
My relationship situation was a confusing mess.
I had absolutely no plan beyond "travel for the next eight or nine months."
I certainly couldn't have predicted all the adventures I'd have before I'd next visit this magical and beautiful country.
And now?
This Wednesday, I'll be boarding a plane to Peru.
I don't have to worry about finding another job because I've created my dream job.
I'm married to the love of my life.
This year's vague plans include "travel for eight or nine months" (or longer).
Going back to Peru, the place where my Nomadtopia began, feels like a homecoming, a closing of the circle, a concrete statement of how far I've come in creating my ideal life—and how many more adventures await.
I had been thinking of traveling with my backpack again, so it could also go full circle, but a persistent pain in my neck (literally) convinced me that wasn't the best move. I'm certainly not as young as I was in 2004!
When I visited Peru the first time, I didn't take any tech gadgets except for my very first digital camera. I had just a simple blog and email for keeping in touch.
Now, I'm taking a digital camera, mp3 player, and smartphone (which didn't even exist back then!).
I've decided not to take my laptop, which was an easy decision in 2004 (I didn't even have a laptop yet), but in 2013 is a really big deal for me. I think this is the first time since I bought my first laptop in 2005 that I've gone somewhere for more than a few days and not taken my computer with me.
This will be a trip back to my travel roots in many ways, but there will be plenty of new experiences, too, as I explore Lima for the first time and co-lead a retreat for the first time.
I'll be spending a lot less time online than I normally do—it'll be a welcome break and a chance to be present wherever I am.
But I want to share the journey with you, so I'll be checking in occasionally and sharing photos and updates when I can. (Facebook and Twitter are the best ways to follow along.)
See you on the road!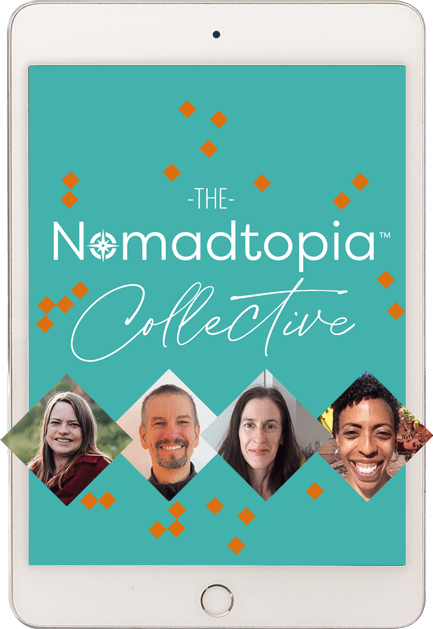 Get the resources and connection you need
Join the nomadtopia™ Collective, a hub of information, inspiration, and community for building—and thriving in—the location-independent lifestyle that's right for you.
Welcome to Nomadtopia®
a hub of resources, inspiration, and community for building—and thriving in— the location-independent lifestyle that's right for you.
The Nomadtopia Collective is a global online community for all nomads — aspiring, newbie, and experienced alike. We're here to not only help with complicated logistical questions related to nomad life, but also to support you at every step of your journey with a vibrant community of people who understand you, your dreams, and your lifestyle.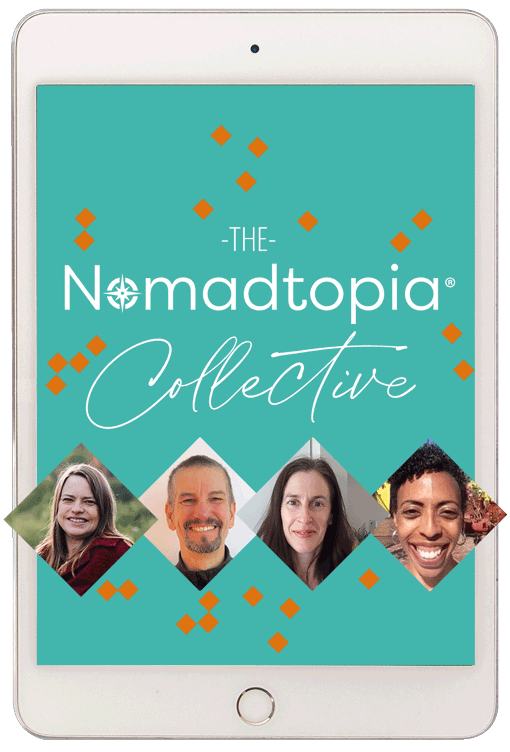 Get the Top 10 Logistical Things You Need to do before becoming a nomad
(That Aren't What You Think)
When you download the guide, you'll also be subscribed to the Nomadtopia newsletter. Your email is safe with me and you can unsubscribe anytime. View our Privacy Policy.