DJ/music producer and entrepreneur Marc Freccero spent 10 months visiting 10 major cities in the U.S. and produced a song about each city that was his personal reflection of that city's ambience, culture, musical influence, and vibe. Not only that, he did the whole journey on a lean budget and while living out of his van. Stay tuned to the end to hear a clip from "GPS," the bonus track Marc created once the trip was over.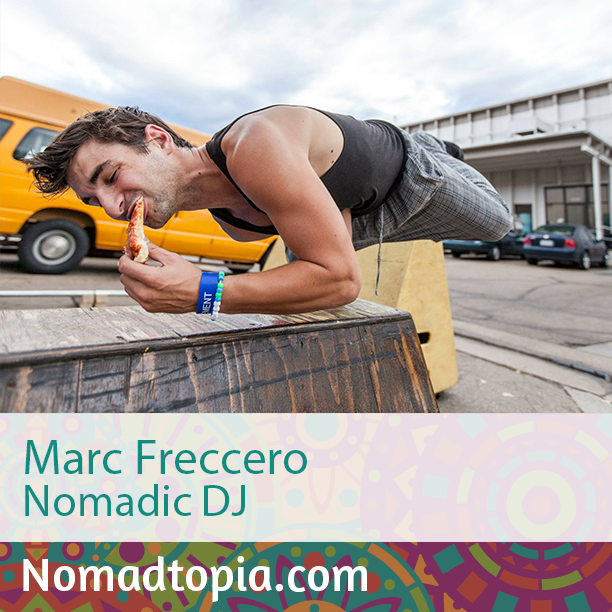 In This Episode

How he got into DJing
Quitting his job after two months
Traveling to 10 cities in 10 months
How and why he lived out of his van
Staying healthy on the road
Connecting with people in different cities
His top hacks for living out of a van and traveling non-stop
His favorite ways to save money
And so much more

Bonus!

So how does Marc actually support his lifestyle? In this bonus mp3, Marc shares details on how he makes money and provides tips for others about Google Ads, affiliate marketing, YouTube, temp jobs and gigs while traveling, focus groups, and more. If you're looking for creative ways to make money on the road or expand your income streams, be sure to check this out.

Download here for just 99 cents!

Resources
FocusGroup.com

Most Memorable Location-Independent Experiences

The whole experience of traveling last year for The Light Nearby Project. It was an incredible experience putting everything I had into one project, and it was amazing to see all different areas of the country.

Resources We Talked About

Marc's Links

Join the Conversation!

What ideas or topics resonate with you from this episode? What questions does it raise?

Leave a comment below, or continue the conversation in the Nomadtopia Facebook group.

Subscribe to Nomadtopia Radio for Free

  

You can also add Nomadtopia Radio to your RSS feed: http://nomadtopiaradio.libsyn.com/rss

Enjoying Nomadtopia Radio?

Please leave a review in iTunes to help more people find the show! (Find out how.)

Support Nomadtopia Radio with a much-appreciated donation:

Or share the episode and help spread the word by clicking on the icons below.