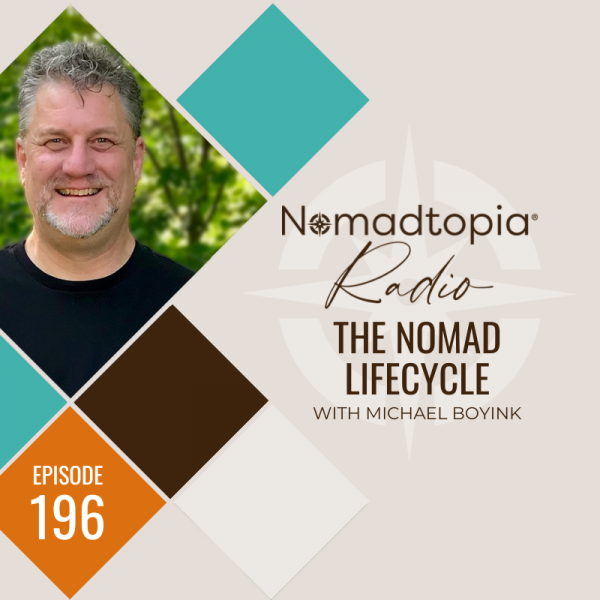 The Nomad Lifecycle with Michael Boyink
October 5, 2022 | Interviews, Podcast, with kids
The nomadic lifestyle tends to go in cycles. On the road for a few years, in a permanent location for a few years, back and forth as life brings different wants and needs. Complacency followed by a catalyst for change.
In today's episode, I'm talking with Michael Boyink, who spent eight years on the road in an RV followed by four years living in a small town. He and his wife are now on the brink of their next big move. He shares what it was like living in an RV, how his kids managed it, and navigating the decisions that come with being a nomad.
Life is full of choices. By choosing one thing, you have to let go of something. And the nomadic lifestyle is all about checking in with how you feel on your journey and making sure that your choices align with your wants and needs.

Michael's journey in and out of nomad life over the past 10+ years

The catalyst that pushed Michael and his family towards living in an RV

How to navigate the up and down cycles that inevitably come with a nomadic lifestyle

Why Michael and his wife decided on the Tulsa Remote Program

How burnout contributed to their need for change

The variability of the RV life and the valuable skills you learn living on the road 

How their kids reacted and adapted to this lifestyle

Resources we talked about
Note: Links with an asterisk are affiliate links, which means you may receive free credit or another bonus and I may earn a small commission or other benefits if you sign up/purchase using that link. There's no additional cost to you, of course!
Get the Top 10 Logistical Things You Need to do before becoming a nomad
(That Aren't What You Think)
When you download the guide, you'll also be subscribed to the Nomadtopia newsletter. Your email is safe with me and you can unsubscribe anytime. View our Privacy Policy.