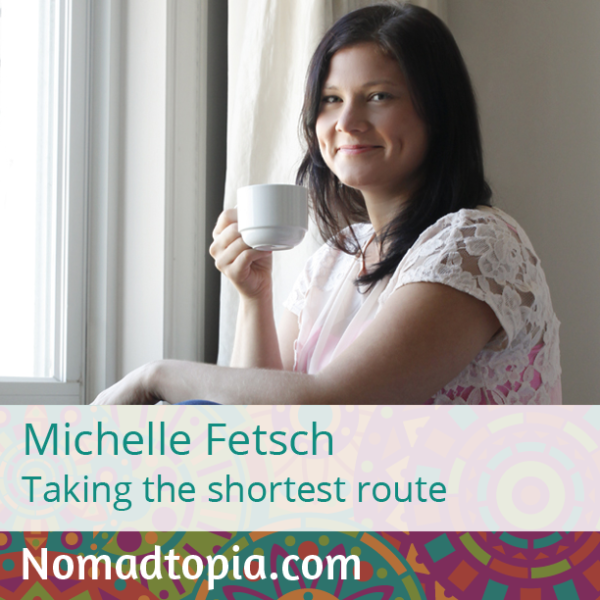 Michelle Fetsch: Taking the shortest route
November 12, 2014 | Podcast
In January 2014, Michelle Fetsch was feeling fed up and decided she needed a change. Two weeks later, she'd quit her job, packed up her apartment, and was on a plane to Bali. In this episode, we talk about how she made it happen so quickly, the rewards of taking big risks, and more.
Note: Some of the language in this episode may not be suitable for work or children!
Most Memorable Location-Independent Experiences
Realizing that the world and our lives can be so much more than we are taught and every new pathway or decision leads to a new pathway or decision. The most memorable experience is opening up to the grandness that life has to offer and realizing that it just keeps getting better. The more I know, the more I know I don't know.
Biggest Surprise along the Way
It can be really challenging to not have a home base and to live from a suitcase, but I believe that the bigger the risks you take, the greater the reward. Every time I've quit the status quo and gone down another path, I've ended up making more money, finding more clarity and confidence, and learning to be with myself on a new level.

Her work with Women Enough
How women's body issues and lack of confidence manifest around the world
Why she suddenly quit her job and moved to Bali
The costs of being spontaneous (and why she wouldn't change a thing)
Arriving on a one-way ticket
What it means to "plan for the future"
Why she's always been a risk-taker, and how it's paid off
And much more
Get the Top 10 Logistical Things You Need to do before becoming a nomad
(That Aren't What You Think)
When you download the guide, you'll also be subscribed to the Nomadtopia newsletter. Your email is safe with me and you can unsubscribe anytime. View our Privacy Policy.