After starting a successful online business (and getting burned out and losing sight of their bigger goals along the way), Nick and Gen decided to try out a more nomadic lifestyle. They discovered that it allowed for more inspiration and creativity (and time off), so they sold everything and now run two full-time businesses together while traveling full-time.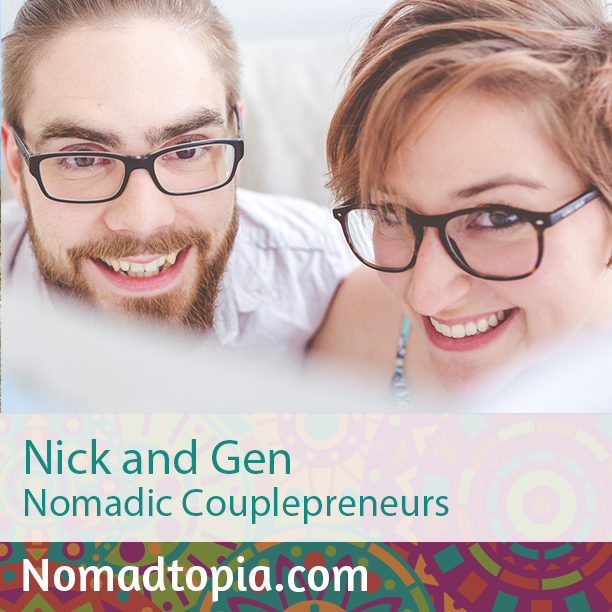 Note: Some of the language in this episode may not be suitable for work or children!
In This Episode

Their daily newsletter subscription business model
Slowing down to reconnect with why they started their business
Deciding to sell everything
Why they chose to start out in Paris
Challenges for couplepreneurs (and what that term means!)
Traveling with gluten and dairy allergies/intolerance
And much more

Most Memorable Location-Independent Experiences

During our last trip to Thailand, we took a weekend to visit Chiang Rai, and had the incredible chance to have a friend of a friend who has been living there show us around.

On a sunny Saturday, we rode scooters for the first time in our lives and the feeling was incredible. Especially the part where we rode on top of the Doi Chang mountain, with nothing but the valleys and steep rice fields on the horizon. This felt like true freedom.

Biggest Surprise along the Way

Traveling together and having to deal with a lot of frustrating situations—like thousands of ants invading our AirBnb in Lisbon—has made us very resilient and very patient. These days, we merely shrug when something like this happens, and don't even waste our energy getting frustrated. It turns out that crappy situations like these turn you into a better human being.

Resources We Talked About

Nick and Gen's Links

Check Out Our Sponsor

Thanks to Greenback Expat Tax Services for supporting Nomadtopia Radio! Greenback has helped Amy save time and money on her taxes, and they may be able to help you too.

Join the Conversation!

What ideas or topics resonate with you from this episode? What questions does it raise?

Leave a comment below, or continue the conversation in the Nomadtopia Facebook group.

Subscribe to Nomadtopia Radio for Free

  

You can also add Nomadtopia Radio to your RSS feed: http://nomadtopiaradio.libsyn.com/rss

Enjoying Nomadtopia Radio?

Please leave a review in iTunes to help more people find the show! (Find out how.)

Support Nomadtopia Radio with a much-appreciated donation:

Or share the episode and help spread the word by clicking on the icons below.