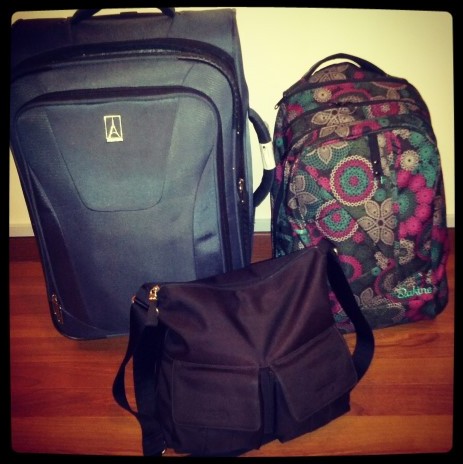 Packing Light: Easier Said Than Done
October 28, 2013 | blogging challenge, Minimalism, Nomad Life, Travel Logistics
After more than two months in one place, today we packed everything up and flew back to Kuala Lumpur, the capital of Malaysia and the place we first arrived in Asia in early August.
We'll be here for almost a week before we head to Indonesia.
As I was packing up this morning, I was reminded yet again of how much stuff I have with me, and how tight a fit it is in my luggage.
I know some might find it impressive that I'm traveling long-term with a carry-on-size suitcase, small shoulder bag, and a laptop bag (Roberto has about the same amount of stuff, without the shoulder bag). But I can, and want, to do better.
Yes, having small bags goes a long way toward keeping the amount of stuff under control, but all of those bags are packed to the brim and are far too heavy. Most of the time, it just feels like way too much.
I've been working on a post about my quest for the perfect travel wardrobe (and my lack of success on this quest is part of the reason I'm stuck where I am, wanting to downsize but struggling). But that post (which will be epic) still needs work, so I thought I'd focus first on just why it matters to pack light.
As a reminder to us all, here's why you (and I) should pack light:
It's less strain on your body.
It allows you to move more freely.
It makes you feel lighter.
It reminds you how little you really need.
It makes it easy to meet airline luggage weight requirements.
You have more room to add additional items, such as food or souvenirs.
I know from plenty of experience that packing light is easier said than done. Even when I feel like I have the right mind-set to pack light, I still end up frustrated and annoyed with all the crap I'm lugging around.
There are two important aspects of packing light that I think I can improve upon: choosing items that weigh less, and choosing fewer (or different) items. I'll be writing more about this in future posts as I work on paring down both the weight and the bulk of what I'm carrying.
What about you? Do you struggle to pack light, or are you a master at it? Why do you (or do you want to) pack light?

This post was part of a blog challenge I did in October where I published a post every single day for a month.
Get the Top 10 Logistical Things You Need to do before becoming a nomad
(That Aren't What You Think)
When you download the guide, you'll also be subscribed to the Nomadtopia newsletter. Your email is safe with me and you can unsubscribe anytime. View our Privacy Policy.