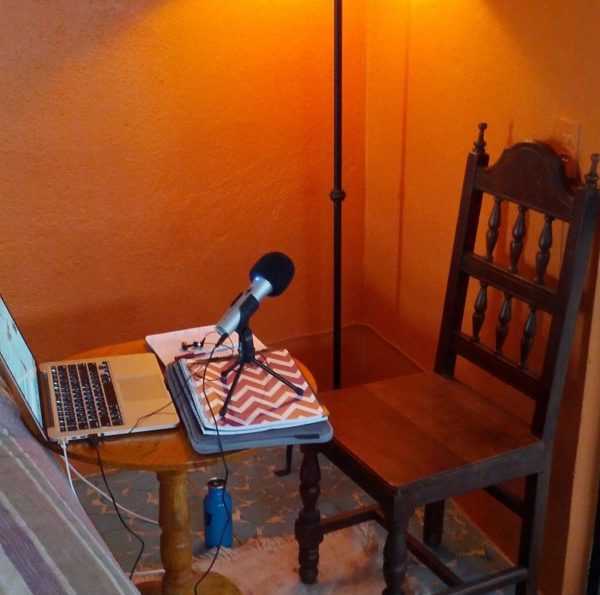 Podcasting on the Road
January 20, 2015 | Inside Nomadtopia, Nomad Life, Technology, Work & Business
Note: Links in this post with an asterisk are affiliate links, which means I may earn a small commission or other benefits if you sign up/purchase using that link. There's no additional cost to you, of course!
I've learned a lot since I launched my podcast, Nomadtopia Radio, in September 2014, and I thought I would share some of my lessons learned for those who might also be interested in podcasting while traveling. (Ian Robinson and I also talked about this when I interviewed him for the podcast.)
I think having a podcast as a nomad is more challenging than it is when you're not moving around, but some of the things I've discovered that help everything go smoothly would be useful at home, too.
Schedule as many interviews/recording sessions as you can when you have a quiet place to record and stable Internet
Since I started the podcast, there have been a few times when I haven't been able to record, either because I was staying in a place with less-than-ideal conditions or because I was traveling too much or just wanted to take some time off. Having interviews in the queue made it a lot less stressful, allowing me to relax because I knew I had enough material to tide me over for a while.
Create the most studio-like environment you can given your surroundings
When you're moving around a lot, your "studio" will be constantly changing, so it's helpful to know some simple things you can do to make things sound as good as you can:
To avoid echo, cover hard surfaces with curtains, pillows, bedding, rugs, or clothes
Notice if there are particular days or times of day that are noisier where you are, and avoid recording at those times if possible
Get a decent microphone (I use the Audio-Technica ATR-2100*—you can see it in the photo above of my makeshift podcasting studio at a place we rented in Mexico). I started out simply using the headset that came with my smartphone, but a proper microphone is an inexpensive upgrade that makes a difference in sound quality, which is especially useful when there are so many other factors you can't control.
Have backup ways to get online when you have interviews scheduled
If the power goes out or the Internet goes down, you'll have to reschedule (and risk throwing off your podcasting schedule, as well as creating hassles for your guest) unless you have another way to connect and complete the interview. (Of course, if you're working while traveling, you should always have backup Internet options, even if you don't have a podcast!) I make sure to have sufficient data available on my local SIM card so I can get online that way if necessary, then connect my computer to my phone's hotspot. I've found that a one-hour audio-only Skype interview uses about 25 MB of data.
Get help
My VA, my husband, and I have created a detailed yet simple workflow to get interviews scheduled and recorded, edit and compile the necessary materials, and publish a new episode each week. I was nervous about the commitment of having to get the show out week after week, but knowing exactly what steps need to be taken to make it happen, and who's responsible for what, makes it much easier to keep everything on track.
P.S. I've gotten some questions about the tech set-up I use (beyond the microphone I mentioned above). I have recorded almost all of my interviews via Skype using the Ecamm Call Recorder* (for Mac only; many PC users use Pamela for recording). I did one of my early interviews in person and found that I didn't have a good set-up to get great audio quality that way, so I haven't done any more in-person interviews, though I'd like to. I use Audacity and Levelator (both free!) to edit, and occasionally record extra snippets via GarageBand.
Get the Top 10 Logistical Things You Need to do before becoming a nomad
(That Aren't What You Think)
When you download the guide, you'll also be subscribed to the Nomadtopia newsletter. Your email is safe with me and you can unsubscribe anytime. View our Privacy Policy.