Now a web developer and digital marketing strategist, Tamala first started exploring the world of online business as a side hustle in the late '90s, and she's been location independent since 2010. All along, she's been motivated by a deep desire for freedom, and in 2015 that led to her first international adventure in Costa Rica. When we talked she was back in the States, regrouping and figuring out what's next.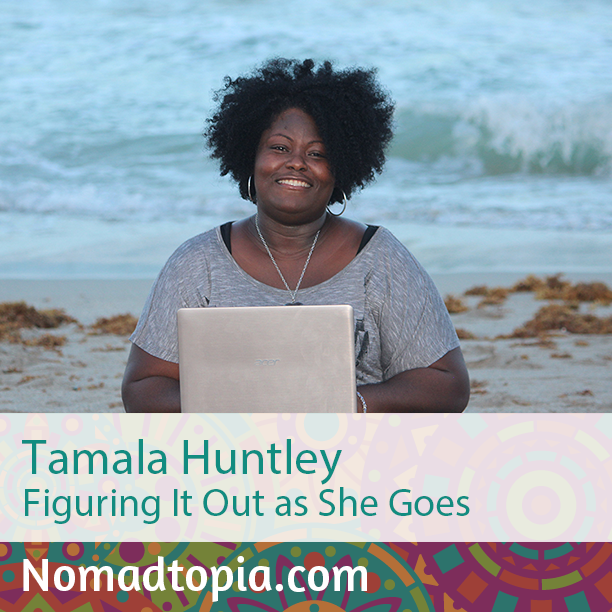 Note: Some of the language in this episode may not be suitable for work or children!
In This Episode
Discovering that even an introvert can feel lonely
Going home to take care of her sister
Her first super-niched websites/businesses and the early days of online marketing
Why it's so important to focus in your biz
Getting ready to move abroad
Living in Costa Rica and the tools she used to make it easier
Loosening up her Type-A personality
And so much more
Most Memorable Location-Independent Experiences
Just realizing that I could move to Costa Rica was a big accomplishment. I'm typically a loner and have moved across the US without any family or friends before, but moving to another country just seemed like a huge deal. 🙂 Now I'm ready for my next stop… as soon as I figure out where.
Biggest Surprise along the Way
I didn't realize how lonely it would be (even for a loner) in a place where you don't speak the language. I made a few great friends in Costa Rica, but after several months I was needing "home".
Resources We Talked About
Join the Conversation!
What ideas or topics resonate with you from this episode? What questions does it raise?
Leave a comment below, or continue the conversation in the Nomadtopia Facebook group.
Subscribe to Nomadtopia Radio for Free
  
You can also add Nomadtopia Radio to your RSS feed: http://nomadtopiaradio.libsyn.com/rss
Enjoying Nomadtopia Radio?
Please leave a review in iTunes to help more people find the show! (Find out how.)
Support Nomadtopia Radio with a much-appreciated donation:
Or share the episode and help spread the word by clicking on the icons below.