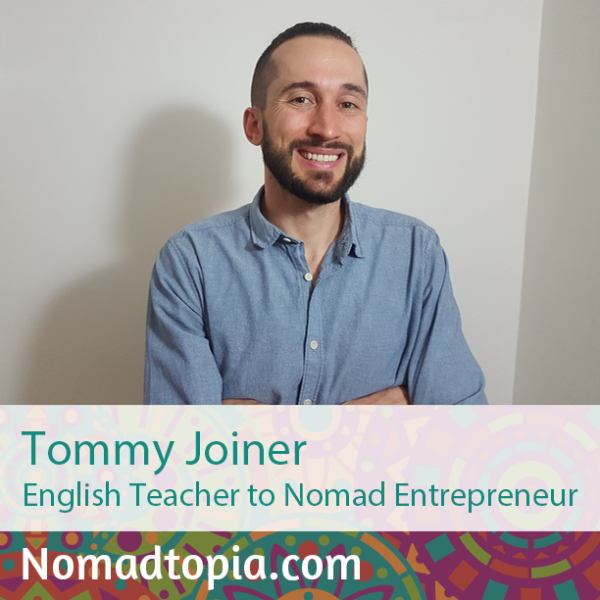 Tommy Joiner: English Teacher to Nomad Entrepreneur
March 16, 2016 | Podcast
Tommy started his adventure abroad teaching English in South Korea. Eventually he landed in Medellin, Colombia, which is now his home base for further travels while he runs a content marketing agency and helps freelancers transition from side income to a full-time living.
Note: Some of the language in this episode may not be suitable for work or children!
Most Memorable Location-Independent Experiences
I started my business using Elance (now Upwork). I kind of fell into marketing by working on a side project in a cafe in Colombia. I never would have thought that a few years later, that moment would have changed my life as much as it has.
Biggest Surprise along the Way
Team building, managing people, dealing with bad clients, making lots of money, making little money… haha. It's been quite a rollercoaster.

Why he chose to teach English abroad in South Korea
How he ended up in Colombia
Getting into marketing
Optimizing your Upwork profile to get high-paying clients
What Medellin is like as a home base
Dealing with visas in different countries (especially Colombia & Mexico)
Creating and following routines while traveling
And much more


Resources we talked about
Note: Links with an asterisk are affiliate links, which means you may receive free credit or another bonus and I may earn a small commission or other benefits if you sign up/purchase using that link. There's no additional cost to you, of course!
Get the Top 10 Logistical Things You Need to do before becoming a nomad
(That Aren't What You Think)
When you download the guide, you'll also be subscribed to the Nomadtopia newsletter. Your email is safe with me and you can unsubscribe anytime. View our Privacy Policy.