The Tools I Use to Work from Anywhere
February 3, 2017 | Nomad Life, Work & Business
It can take a lot of different systems, services, and tools to successfully work from anywhere, but the technology available today makes it totally doable and relatively stress-free. (Things have come a long way since I first started out in 2005!)
Here's as close as I can get to a comprehensive list of all the tools I use to run my businesses no matter where I go, last updated June 2022.
(Note: Links with an * are affiliate links, which means if you click on the link and make a purchase, I will receive an affiliate commission or other credit/benefit—and you may also get free credits or access to special deals. There is no extra cost to you, and every little bit helps support Nomadtopia.)
Task Management: Asana
Password Management: LastPass*
Mail: My parents (thanks, Mom and Dad!) and Traveling Mailbox*
Invoicing and Bookkeeping: Xero
Payment Processing: PayPal, Stripe, ThriveCart
International Transfers: Xoom, Wise* (formerly TransferWise)
Budgeting: You Need a Budget*
Tax Advice and Preparation: Gracefully Expat
Banking: Capital One Spark Business Checking and Savings, Chase credit cards
Email Marketing: ConvertKit*, Mailchimp
Signing PDFs and Sending Client Contracts: DocHub, HelloSign*
Sharing Documents and Collaborating: Google Drive, Dropbox*
File Back-ups: Sync*, Dropbox*, Backblaze*, Time Machine (Mac only)
Note-Taking, Collecting Information, etc.: Obsidian, Evernote (get a free month of premium*), Airtable*
Scanning: CamScanner*, Rocketbook*
Editing and Writing: Google Docs, Microsoft Word, Microsoft Excel
Mind-Mapping: Mindmeister*
VPN: NordVPN*
Website Hosting: SiteGround*
Domain Registration: NameSilo*
WordPress Themes: Beaver Builder (Nomadtopia), Divi* (Nomad Editorial)
Site Backups: BackupBuddy
Online Community/Membership Site/Courses: Mighty Networks
Webinars/Video Calls: Zoom, Crowdcast
Hosting Video/Audio Files: YouTube, Vimeo* (get up to 25% off with that link!), Amazon S3, Dropbox*
Screencasts: Screenflow (Mac only), Loom*
Communication: Skype, Google Voice, What's App, Zoom
CRM (Customer Relationship Management): Streak*
Hotspot & Data Usage Monitoring: TripMode, My Data Manager
Productivity: Alfred (Mac keyboard shortcuts, search, etc.), f.lux and Twilight (reduce blue light on screens as night falls), RescueTime (track app usage), Zapier (for automation and integrations)
Productivity + more for Mac and iOS: Setapp (get a free month with this link*)
Time Tracking: OfficeTime
Scheduling Appointments: Google Calendar, Acuity Scheduling, World Time Buddy to sort out time differences, Doodle for scheduling with multiple people
Scheduling/Posting to Social Media: SmarterQueue*
Surveys/Forms: Tally, Typeform, Wufoo
Email Management: Gmail, Boomerang*
Podcasting: Audacity, GarageBand, Libsyn, Zoom
Transcription: Otter*
Business Cards: Moo (get 10% off your first order*)
Tracking Missing Devices: Prey
Checking Wi-Fi Speeds: Speedtest.net
Finding Places to Work: Workfrom, LiquidSpace
Check out the Nomadtopia Packing List to learn about all the gadgets and other items I travel with.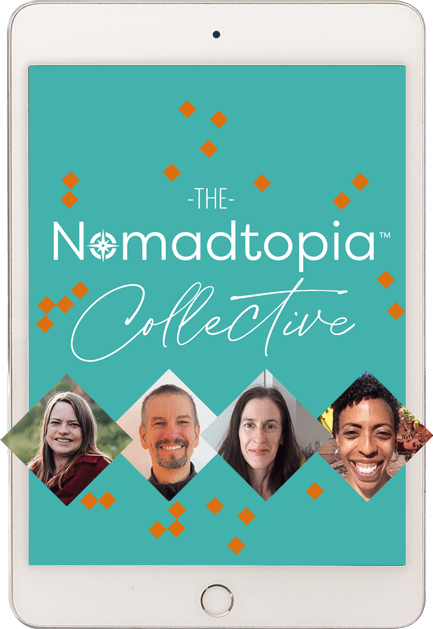 Get the resources and connection you need
Join the nomadtopia™ Collective, a hub of information, inspiration, and community for building—and thriving in—the location-independent lifestyle that's right for you.
Welcome to Nomadtopia™
a hub of resources, inspiration, and community for building—and thriving in— the location-independent lifestyle that's right for you.
The Nomadtopia Collective is a global online community for all nomads — aspiring, newbie, and experienced alike. We're here to not only help with complicated logistical questions related to nomad life, but also to support you at every step of your journey with a vibrant community of people who understand you, your dreams, and your lifestyle.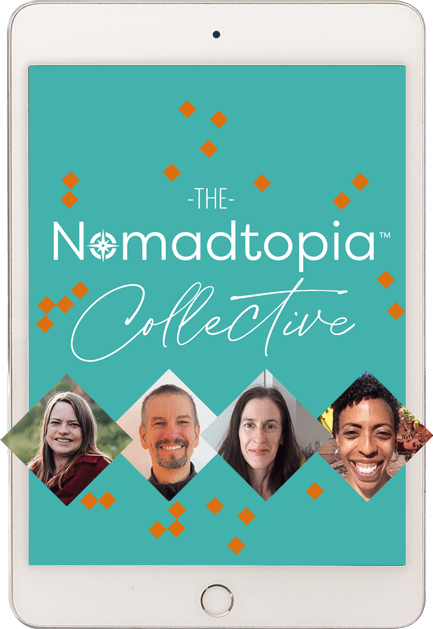 Get the Top 10 Logistical Things You Need to do before becoming a nomad
(That Aren't What You Think)
When you download the guide, you'll also be subscribed to the Nomadtopia newsletter. Your email is safe with me and you can unsubscribe anytime. View our Privacy Policy.