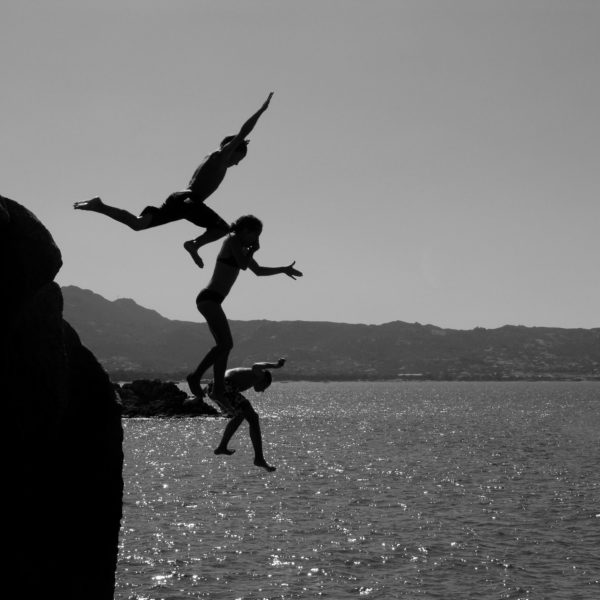 Making the Leap
February 28, 2013 | Building Your Nomadtopia, Evolving Your Nomadtopia, Inspiration, Living Your Nomadtopia, Nomad Life
"Leap, and the net will appear."
—John Burroughs
For years, I've loved that quote. It's inspired me to take risks, follow through on my big dreams, and try things I might not do otherwise.
But when I started to look at my life more closely, and thought about what this quote really means, I realized that's not actually how I tend to operate.
It might sound a little less poetic, but my version of this saying probably goes something a little more like this: "Weave the net that allows you to leap, then make the leap."
I'm not a free spirit, acting on big ideas on the spur of the moment. I often decide very quickly that I want to do something, but it may take me a while to actually put it into action—because I'm busy weaving my net.
In 2002, I came up with this "crazy" idea to quit my job and travel for at least six months. The initial idea and vision came together in about 24 hours, but I didn't actually quit my job and start traveling for another two and a half years. I'd decided that I needed to save at least $10,000 in order to pull it off, so I spent those years weaving my net. In September 2004, I took the leap.
In 2005, I came back from my trip and decided to start my own business so I could live and work anywhere in the world. I had some money left from my trip to tide me over as I got started. Over the next two years, I wove a new net: a business that I could run from abroad, and all the tools and resources I needed to keep my clients happy and the money coming in.
Weaving a net often takes patience and persistence, but it also gives you the confidence and reassurance you need to follow through on what may initially have seemed like a crazy (read: risky) idea. Many times, the "net" that makes you feel more secure is money in the bank, but you might also weave other things into your net.
Whatever it is that worries you about taking the leap, add it to your net. If you're worried about getting sick, make a self-care plan and buy insurance to give you peace of mind. If you're concerned about how you'll keep in touch with clients, colleagues, friends, and family, research the best communication options and be sure you'll have several at your disposal.
As you move forward, weaving your net and preparing for the (next) leap, you might even discover that you're not as worried about these things anymore, or that you're willing to weave a smaller net, and include fewer safeguards, because you can't wait to make the leap.
And, the more times you make a leap, the easier it gets. Eventually, you might actually be able to leap first and trust the net will appear—or maybe your confidence and faith becomes the net, and you know it's always there not matter what.
What about you? Are you more a "Leap and the net will appear" kind of person, or do you find yourself weaving the net first? Has it changed over time?
Do you need support for your next big leap? Join us in the Nomadtopia Collective!
Photo credit: By Jo Leonhardt on Unsplash
Get the Top 10 Logistical Things You Need to do before becoming a nomad
(That Aren't What You Think)
When you download the guide, you'll also be subscribed to the Nomadtopia newsletter. Your email is safe with me and you can unsubscribe anytime. View our Privacy Policy.