Amy has found a way to make her love for travel a lifestyle by running a travel blog and a travel planning service while keeping a full-time remote job. She has been to more than 22 countries, mostly traveling solo, and is considering setting up a base in Hawaii.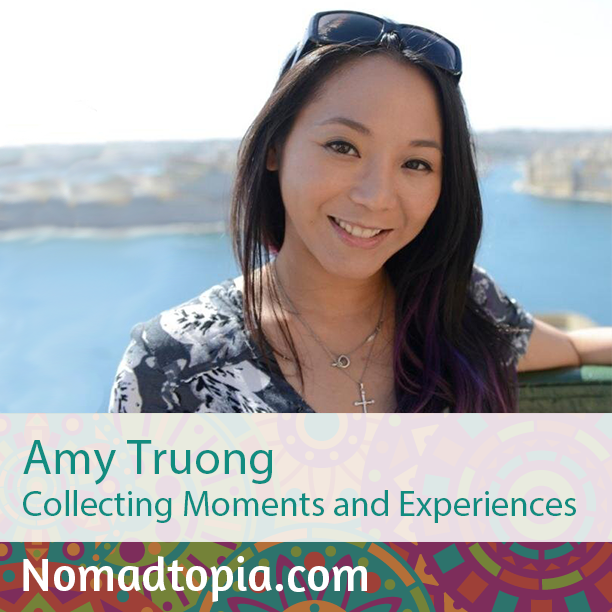 Note: Some of the language in this episode may not be suitable for work or children!
In This Episode
How she started working remotely
Her routines for getting things done and also exploring her surroundings
Tips for staying safe as a woman traveling alone
Travel planning tips for nomads
How she handles feeling lonely on the road
Dealing with a broken wrist
And much more
Most Memorable Location-Independent Experiences
Climbing 50 stories up an abandoned skyscraper in Bangkok. Dancing at sunrise on a boat sailing towards the Golden Gate Bridge in San Francisco.
Biggest Surprise along the Way
Positive: How awesome people are when you're lost or need help
Negative: Loneliness and isolation at times when you're in a place without a wide social circle/network of friends or other nomads
Resources We Talked About
Check Out Our Sponsor
Thanks to Greenback Expat Tax Services for supporting Nomadtopia Radio! For years, Greenback has been helping Amy and lots of other nomads and expats save time and money on their taxes. Contact Greenback to see how they can help you too.
We Need Your Help!
Please take a minute or two to fill out this super-short survey to help us learn more about you and what you'd like to hear on Nomadtopia Radio. Thank you!
Join the Conversation
What ideas or topics resonate with you from this episode? What questions does it raise?
Leave a comment below, or continue the conversation in the Nomadtopia Facebook group.
Subscribe to Nomadtopia Radio for Free
  
You can also add Nomadtopia Radio to your RSS feed: http://nomadtopiaradio.libsyn.com/rss
Enjoying Nomadtopia Radio?
Please leave a review in iTunes to help more people find the show! (Find out how.)
Support Nomadtopia Radio with a much-appreciated donation:
Or share the episode and help spread the word by clicking on the icons below.