Since she quit her job on Wall Street a few years ago, Laura's been splitting her time between New York and Southeast Asia, and is also starting to scope out a third location to use as a base.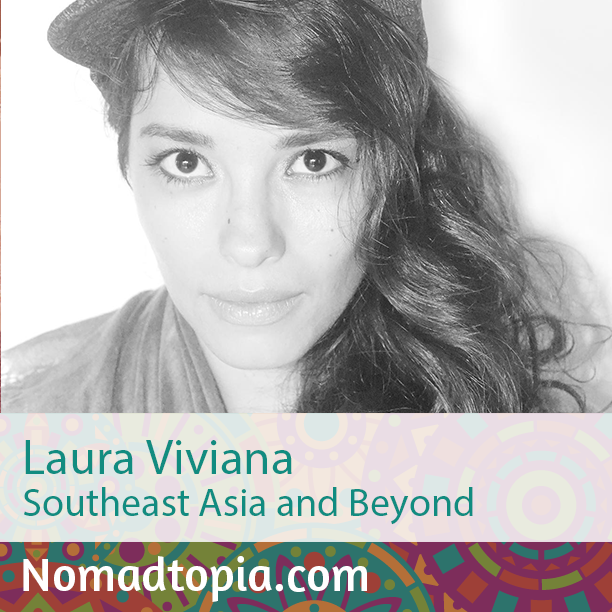 In This Episode

Sorting out life at home so she could leave
Her impressions of Colombia
What turned things around after a tough start in Bali
Why her business is based in Florida
Dealing with Internet in Bali
Why and how she splits her time between different locations
Why having a base is important
Routines while traveling
Handling cell phone plans
And so much more

Bonus!

Get even more of my conversation with Laura!

Laura and I share the inside scoop on how we handle cell phone plans and use other tools like Skype, Google Voice, and What's App to stay in touch and nurture relationships no matter where we are.

Most Memorable Location-Independent Experiences

Riding through the middle of the remote Bali countryside on my motorbike alone, jamming out to trip-hop and feeling freer and happier than I ever have in my life.

Biggest Surprise along the Way

This lifestyle is exciting and rich…but it's also very very hard at first. Honestly? The freer you want to be, the more you have to plan. For me to be the master of my own experience, I really have to crack a whip. You can't make money, travel hard, play hard and maintain your close relationships with friends and family by doing things on a whim. My life is often very planned out in order for me to have ultimate freedom. This was very surprising for me in the beginning.

Also, living this way has in many ways actually brought me closer with my friends and family back home. Not only does it make me schedule very focused time with them when I'm back, but it also helps me be a happier person. Being happier and living my dream means I make more money and I have more freedom, which all adds up to being a better friend and daughter, because I'm a better version of myself. But don't get me started on long-distance relationships—I have no answers there…yet. 😉

Resources We Talked About

Laura's Links

Join the Conversation!

What ideas or topics resonate with you from this episode? What questions does it raise?

Leave a comment below, or continue the conversation in the Nomadtopia Facebook group.

Subscribe to Nomadtopia Radio for Free

  

You can also add Nomadtopia Radio to your RSS feed: http://nomadtopiaradio.libsyn.com/rss

Enjoying Nomadtopia Radio?

Please leave a review in iTunes to help more people find the show! (Find out how.)

Or share the episode and help spread the word by clicking on the icons below.