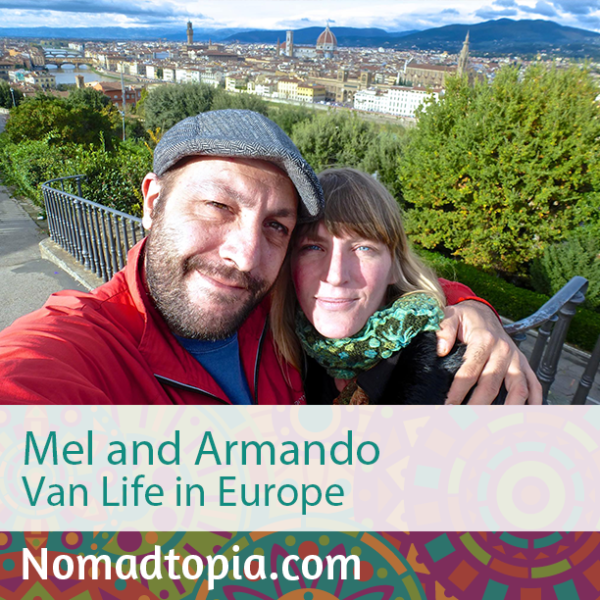 Mel and Armando: Van Life in Europe
July 6, 2016 | Podcast, with pets
American writer Mel and Italian filmmaker Armando met while she was living in the Czech Republic and he in Bulgaria. A couple years later, a few spontaneous decisions found them living and traveling together in a VW T4 Westfalia, and they've now been on the road since 2012. We didn't have a chance to talk about it much, but they've also recently adopted a dog!
Note: Some of the language in this episode may not be suitable for work or children!
Most Memorable Location-Independent Experiences
So many. We stayed with an Italian circus for a week. We visited the 'Grand Canyon' of Europe in Sicily. We've been adopted by: a Lithuanian couple, a Portuguese couple, and a Moroccan dog. Grin. Meteora, Greece, was an especially spiritual experience. Morocco for three months was a mix of beautiful countryside and difficult culture. Romania was amazing, pretty much all of it. It's really hard to say just one.
Biggest Surprise along the Way
How people react to us living in a van full-time, saying either: "Where do you really live/are you homeless?" or "Wow, you're living the dream. I wish I could do the same." We weren't prepared for any reactions about our method of travel.

How they each ended up living abroad
How they met and started traveling together years later
Buying their van
Taking their work online
Doing trades while they travel
Getting sponsors for their travels/blog
Learning to live together 24/7
And much more


Resources we talked about
Note: Links with an asterisk are affiliate links, which means you may receive free credit or another bonus and I may earn a small commission or other benefits if you sign up/purchase using that link. There's no additional cost to you, of course!
Connect with Mel and Armando
Get the Top 10 Logistical Things You Need to do before becoming a nomad
(That Aren't What You Think)
When you download the guide, you'll also be subscribed to the Nomadtopia newsletter. Your email is safe with me and you can unsubscribe anytime. View our Privacy Policy.