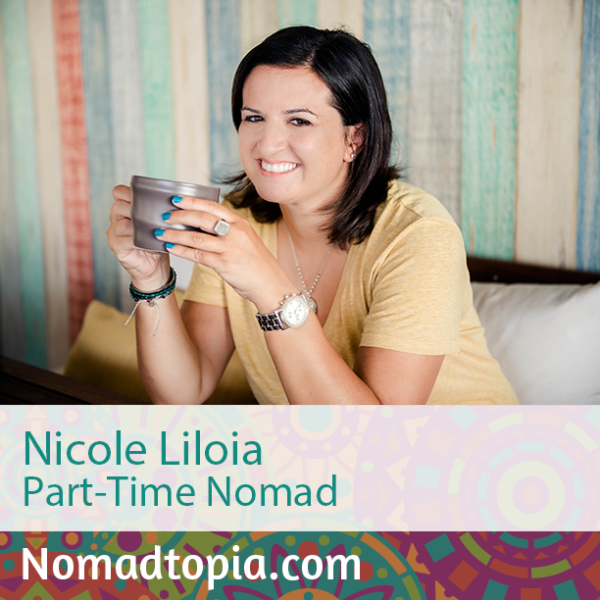 Nicole Liloia: Part-Time Nomad
June 15, 2016 | Podcast
A former social worker, Nicole is a business strategist + coach who helps entrepreneurs make money doing work they love and create multiple income streams through her program the Authentic Affiliate Academy. She lives in New Jersey full time but travels regularly and takes one-month international trips to experience new countries and escape winter.
Most Memorable Location-Independent Experiences
Being able to escape the cold New Jersey winters for a month and spend them somewhere warm has been amazing. Changing my business model so that I can do this more often has also been really helpful. I love hearing from my clients who are women and interested in traveling by themselves but feel scared to do it. They're really inspired to try it out once they see me share my experiences.
Biggest Surprise along the Way
It's easier to do things alone when you travel than when you're at home! I also have better focus while I'm traveling and find it easier to get my work done in shorter periods of time.

Why she prefers being a part-time nomad
Logistics of leaving for a month at a time
Stressors of the lifestyle and how to handle them
Preparing for an effective workcation
Transitioning from in-person to online work
Discovering what's possible and test-driving the lifestyle
Tips on creating passive income through authentic affiliate marketing
And much more

Resources we talked about
Note: Links with an asterisk are affiliate links, which means you may receive free credit or another bonus and I may earn a small commission or other benefits if you sign up/purchase using that link. There's no additional cost to you, of course!
Get the Top 10 Logistical Things You Need to do before becoming a nomad
(That Aren't What You Think)
When you download the guide, you'll also be subscribed to the Nomadtopia newsletter. Your email is safe with me and you can unsubscribe anytime. View our Privacy Policy.