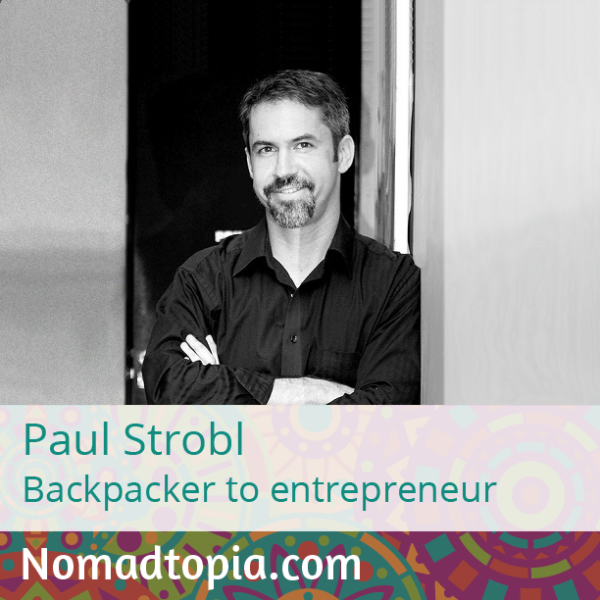 Paul Strobl: Backpacker to entrepreneur
September 24, 2014 | Podcast, with pets
Paul Strobl has worn many hats over the years: backpacker, reality-show participant, English teacher, sales manager, business coach, expat, and more. Tune in to find out how these experiences have shaped his life and led him where he is today, enjoying life with his wife and dogs, no matter where they are in the world.
Note: Some of the language in this episode may not be suitable for work or children!
Most Memorable Location-Independent Experiences
My memorable experiences have to do with the freedom that was definitely lacking back in U.S. corporate life. I think it's a toss-up between my daily walks on the beach in Gdansk, Poland, with the dogs, sometimes finding amber washed up on shore; and the enjoyment of running private wine tours in Mendoza, Argentina.
Biggest Surprise along the Way
I think the biggest surprise is how easy it can be to work with clients from anywhere. Even if the power goes out or I can't find good wifi, calling cards are everywhere and relatively cheap, and with current technology, a lot of my business can be automated through online software tools. I definitely do not get upset at minor inconveniences like I used to.

Going from backpacker to business school
The importance of knowing how to sell
The power of making your intentions known
How the worst experience of Paul's life was also the best thing that ever happened to him
How a career that seems fixed in one location might not have to be
What it was like to take two dogs to Poland
What makes Gdansk, Poland, a good destination for nomads/expats
And much more


Resources we talked about
Note: Links with an asterisk are affiliate links, which means you may receive free credit or another bonus and I may earn a small commission or other benefits if you sign up/purchase using that link. There's no additional cost to you, of course!
Get the Top 10 Logistical Things You Need to do before becoming a nomad
(That Aren't What You Think)
When you download the guide, you'll also be subscribed to the Nomadtopia newsletter. Your email is safe with me and you can unsubscribe anytime. View our Privacy Policy.