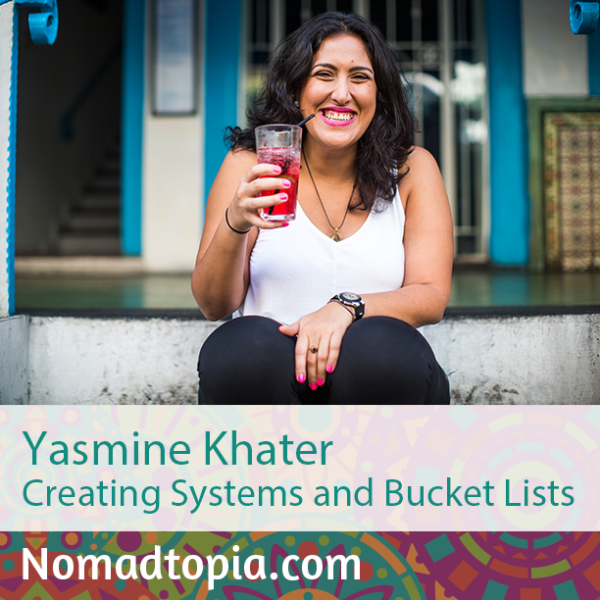 Yasmine Khater: Creating Systems and Bucket Lists
December 16, 2015 | Podcast
Yasmine has lived in eight countries and describes herself as "a typical third culture kid trying to find my place." She's on a mission to visit every country, and is currently traveling to connect with friends she's met all over the world. As she travels, she continues to work helping small business owners develop systems to scale their businesses, and she enjoys developing a daily routine to work and live like locals do wherever she goes.
Note: Some of the language in this episode may not be suitable for work or children!
Most Memorable Location-Independent Experiences
It's the people I have met, who are on a similar journey. For example, I was going through a really hard week, I was all alone, and being by yourself on the road can sometimes be lonely. And I went to a coworking space because I need good wifi, and after my client call I ended up having a deep discussion about life with the owner of the coworking space and it gave me a lot of perspective. The best part is also when I'm in different cities having the chance to see friends again who mean a lot to me.
Biggest Surprise along the Way
How important it is to be organized. The first time I went away I wasn't so prepared; I didn't have my things in order back home like finances, taxes, etc. Now I am realizing it's all about systems and Asana has become my new best friend.
The negative part is that sometimes it gets lonely and sometimes it gets tiring having to explain what you are doing.

Why she reduced 1:1 services in her business
The implications of not having systems in place
Getting clients no matter where you are
Her mission to see every country in the world
Why it's important to prepare for the future
How her priorities shifted in her 20s and why she created a bucket list
Booking flights in advance (or not)
Creating and optimizing sales systems in your business
And so much more


Resources we talked about
Note: Links with an asterisk are affiliate links, which means you may receive free credit or another bonus and I may earn a small commission or other benefits if you sign up/purchase using that link. There's no additional cost to you, of course!
Get the Top 10 Logistical Things You Need to do before becoming a nomad
(That Aren't What You Think)
When you download the guide, you'll also be subscribed to the Nomadtopia newsletter. Your email is safe with me and you can unsubscribe anytime. View our Privacy Policy.