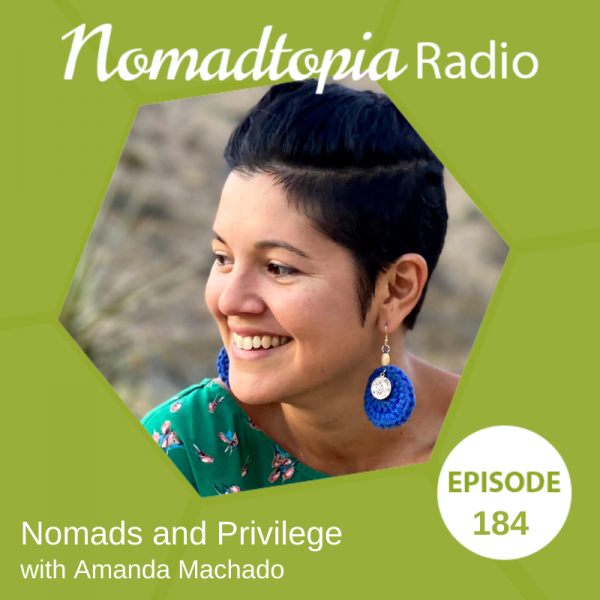 Nomads and Privilege with Amanda Machado
October 6, 2021 | Podcast
Ever thought about your relationship with the places you visit and whether you're doing more harm than good? Are you aware of the incredible privilege inherent in the lifestyles we live (or aspire to live) as nomads?
I invite you to listen in as I discuss this topic with guest Amanda Machado. This particular episode has more questions than answers, but they're questions I think more of us need to be asking. They can help inform how we travel and where, the ways in which we can try to avoid inflicting harm on others and their communities, and lots more.
Amanda gives actionable advice on how to break the barriers of privilege and how to self-regulate your action to make sure it's coming from a genuine place and is non-performative. She also uncovers how you can practice justice-oriented travel in your nomad journey.

How Amanda got into her work around privilege and travel
What people can do to break barriers of privilege
Expat vs immigrant
The steps you can take for genuine action vs. performative action
Inherent privileges that people don't realize they have
How to take part in justice-oriented travel
Questions she sat with to examine and acknowledge her privilege


Resources we talked about
Note: Links with an asterisk are affiliate links, which means you may receive free credit or another bonus and I may earn a small commission or other benefits if you sign up/purchase using that link. There's no additional cost to you, of course!
Amy Scott  00:03
Thanks for tuning in for another episode of Nomadtopia radio. This is Amy Scott, my guest today is Amanda Machado. Welcome to the show, Amanda.
Amanda Machado  00:48
Thank you so much for having me here. Really excited to be here.
Amy Scott  00:51
Yeah, I'm really excited to talk to you. So as a starting point, just tell us a bit about what your Nomadtopia looks like.
Amanda Machado  00:59
Yeah, well, it's been a very journey. It started when I was 24 years old, I would say when I quit a full time job, ended a relationship through you know, sold all my belongings. That's a classic story, at this point, very classic story and decided to just travel for a year. At that time, what I thought was just going to be a gap year like a gift to myself to take a year off after graduating college and working and trying to figure out what I wanted to do next. So I did that when I was 24. I just carried around a backpack that I think was around like 30 liters. for the entire year, I bought a one way ticket to cut the handle on Colombia. I did the first three months with my friend, a really good friend from childhood, then was on my own for a little while, met someone had a travel romance traveled with them for a while. And the year just kind of flowed on that way. And once I got back, I realized that I still wanted to find a way to incorporate travel into my life. And you know, then after ever since it's been kind of a roller coaster, I thought I was gonna stay in the US, I ended up getting a job in South Africa moving there. After that, my writing work allowed me to be independent and remote, full time. So I was able to stay in Cape Town for a long time, then decided to live in Cuba for a few months, and then Berlin for a few months, and just was hopping around a lot until I came back here to Oakland. I'm where I had originally, the bay area is where I originally moved after graduation. So I've been living here and pretty settled, actually now for the last four years, which is very, very different. You know, I signed the lease for the first time in a long time I own a mattress, I own furniture. I put picture frames on the wall, that was a huge new step. So doing a little bit more of the the settling grounded thing. But my work still allows me to be independent. So what I have done, and what I promise to myself, while being here is that every year I leave for a month abroad. So my first year here, I lived in Mexico City for a month. Next year, I went to Rio de Janeiro for two months. And then I was planning on picking my third location when COVID happened. So this was actually my first time. And I think of decades of spending an entire year in the same place and not being on a plane at all for a full year. So now it's you know, continuing to flow, we'll see what happens next. But that's been the journey with it so far, is just trying to figure out what is the right amount of journeying and traveling and settling that that is, you know, best for the life that I want.
Amy Scott  03:33
Yeah, absolutely. I'm sure a lot of I can relate. And I'm sure a lot of people listening can relate to a lot of what you've described as well. And tell us a little bit about your work as it relates to you know, what we're planning to talk about today.
Amanda Machado  03:47
Yeah, so my work is really interested in the intersections between travel and the outdoors, but also power dynamics, race, gender, sexuality, I identify as a queer Latinx person. And I carried a lot of those identities into the places that I was in when I was traveling, and noticed, you know, really quickly, right that my travel experiences were super different than my white friends who were traveling the majority of folks that I would meet in hostels, and meetups, and then just travel expert spaces where white Americans or white Europeans. So just realizing the differences and how we were relating and engaging with the land, we were on the countries we were in, the way people were relating and engaging with us, became really important. And so I just really wanted to explore that I wasn't seeing travel writing, that was really identifying that it was a lot about just like, you too, can travel the world and you too can make your life you know, perfect, but not really acknowledging the complications of how these issues and the issues of differences in power are really creating an imbalance in how we travel and how we live abroad. So yeah, my work to this day is still really passionate about getting folks to name those things. And just explore them more within themselves and figure out what they can do about it.
Amy Scott  05:00
Yeah, perfect. Yeah. So that is, in a nutshell, what we're gonna dive into today. And so I thought as a jumping off point, I'm actually going to read a little excerpt from an article I found online, which is how I found you because I was specifically looking for more discussion about nomads and privilege. It's something that I have thought about a lot myself, I'm very aware of but like, like, Yeah, but what do I do about it? And like, this isn't, you know, it's not what I do professionally. And so I kind of just didn't know where to go with it. So anyway, I found this article that you wrote for the week at the beginning of 2020. So I'm just going to read a brief piece from that right now. "Even among liberal and progressive friends"—Oh, actually, I should also say this was an article that Amanda wrote in response to her experience going to Mexico City as she mentioned, she went there for a month last year—"even among liberal and progressive friends and ability to migrate freely is assumed. Many upset with the most recent presidential election claimed they would leave the country in protest, travel magazines, and articles often comment on the appeal of moving to Mexico to quote escape from mounting political tensions in the United States. This is a common pattern among US citizens, an entitlement to other people's countries, even as we allow our government to refuse those trying to enter our own." And also side note, this was right at the time when there was a really increased tension around people trying to get into the US. "After moving to Cape Town in 2015, I wrote a widely shared post sanctimoniously arguing about the benefits of leaving the United States and living abroad. But at the time, I didn't fully recognize or acknowledge the passport privilege that allowed me to have that experience in the first place. My privilege meant I could easily decide to leave the US when its culture or politics frustrated me and choose another country that suited me better at the time. And if ever I needed the US for its unique financial opportunities to advance my life or career, I could then just as easily return." And to wrap up, Amanda said, "It's more important than ever, for US citizens to understand our privilege, we take advantage of an unjust system that allows us to easily move about the world, while others must sacrifice everything to do the same." And, you know, I had found you and your this article some months ago. But as I was preparing for our talk, I was looking at this again, and I realized, oh, man, it's even more poignant right now, because the last interview I just did was with an immigration lawyer all about moving to Canada. And I think we touched on it for like, 30 seconds, you know, but it, there's absolutely a lot of privilege just inherent in even having that conversation, right? Like, oh, here's somewhere, you know, that you can go if you'd like to, and it's really easy. And so, you know, this is part of what I want to talk about today is, you know, helping us better understand our privilege. And like, I think about the fact that, like, we may be aware of it, or, you know, articles like this can help make people aware. But what can we do about it like, okay, now that we recognize that, you know, what's next?
Amanda Machado  08:20
Yeah, I mean, I think just to First off, talk about where I started on this, you know, I, when I was in Cape Town is where I started to realize, you know, when I wrote that article, how much I'm just missing, how many like blind spots for lack of better word, you know, gaps in my thinking, I should say, were happening as I was abroad, and enjoying all the things that I didn't have in the US, admittedly, you know, I think a lot of travelers have that experience, you know, like it feels better in a certain country, or they're getting things out of it, that they can't find in the US. But just not realizing that that doesn't mean that the solution then is that everybody should just up and move because that's not possible for everybody. And I want to acknowledge the person, a person who's writing really like, pushed me on this thinking, which is Bani Amar, who's a travel writer, who wrote this article for Yes magazine called, are we doing vacations wrong? And was more about vacation specifically, but I think it talks a lot about just like the philosophies of travel and the ideas inherent in travel that we don't really interrogate. And one of the things they say is that the truth is that tourism, like any other capitalistic project is about consumption for profit. But place isn't an endlessly renewable commodity. It is someone's home, and the communities who call it so rarely factor in fairly to our conceptions of travel as an enlightening project. And so I think that's, you know, what I had to sit with for a really long time that I was doing that I was consuming other people's places for what it was giving me and it was enlightening to me, admittedly, right? I was learning all kinds of things about myself, but I've never really, really dug deep into like, what was my impact on these places? And I don't think I was, you know, actively causing harm. I think I was very into sustainable travel from the beginning, I was always thinking about how to like, invest in local communities. But I guess when you asked like, what should I do? I think the first thing is to really just interrogate even deeper, right? Like, how much am I actually engaging with the place as if it was someone's home? Right? How much am I actually thinking about that on a daily basis, and I think just framing our minds around that starts to change the way you act inherently, you know, you just start to know what to do, when you really start to dig deep into that question, or into that frame of thinking. And I think for me, I think it's just yeah, it just feels like it goes deeper every single time. I keep thinking about that. And I think with COVID, what's interesting, too, is that it becomes, in some ways more even more apparent how we use travel for escape, in moments that countries are actively asking us not to come right or that we know that we're, we could actively cause harm, just with our physical presence in a place. So I've been thinking about that a lot. And also how it just relates even within the US, you know, I read a lot, I used to read a lot about how this played out abroad. But during COVID, and realizing a lot of what happened and there's been writing on this, too, is you know, people from the cities flocking to rural places, and wanting to go to like their mountain escape or their forest wilderness just to escape the reality of the pandemic. And folks in those cities also say, like, you know, like towns in Montana are people's homes. This isn't the vacation for San Francisco, people don't want to leave the pandemic. This is just where we are experiencing the pandemic. And we don't have, you know, capacity in hospitals, and we don't have resources if folks were to get sick. So I think I'm also just realizing how this can play out and even within our own country as Americans, just this idea of travel as being escape, and not being entering someone's home, I think is like the first thing that we have to we have to reframe. And there's more I can say about actions, but I just wanted to start with just like the framing of it.
Amy Scott  12:00
Yeah, I appreciate that. That's, that's a really helpful inquiry and a helpful starting point, I think. Yeah. So let's talk a little bit more about some of the actions that you that come to mind, or that you often talk about?
Amanda Machado  12:13
Yeah, I mean, I think, especially with like the uprising for racial justice that happened last summer, I think there was a lot of conversations about what makes activism performative. And what makes it genuine. And I think for me, what makes it genuine and not performative is when you actually feel uncomfortable doing it. I think it's when it's something that you're like, Oh, I know, that's the right thing. But oh, I kind of don't want to do that, or that would make things inconvenient for me. Or honestly, in some ways, if I do that, I'm giving up something, whether it's money, convenience, often power, right, like, that means I won't be in charge, or I won't be in control, or I will have to change things around and let someone else make the decision. For me. I think that's actually one of the biggest changes happening. And I think because it is so hard and so uncomfortable. We often try to do everything but that thing, right. And so even for myself, when I think of the way I traveled, you know, like I tried to travel sustainably, I researched tourist companies to make sure they were locally owned, tried not to support resorts or big hotels were like Americans are in charge of everything, tried to make sure the money was going back into the country. But that was like relatively easy, I think. Or easier, or, you know, then really sitting with harder questions of like, should I even be here at this place? Right? Like, is this the right time? During COVID? That's a big question. Right? Maybe it's actually better that I just give up this vacation for now. Right? Or what is the impact of my US dollar? Like it's great that here the massages are half price and you know, five star? Michelin restaurants are affordable, finally, but does my money actually negatively impacts the environment here? like where's that money going? Just because it's making me happy? Is it? is there other ways I can use it in ways that will give other people power? Rather than it just focusing on my enjoyment? And those are hard questions. And I don't know exactly the answers and I don't think I don't think I've ever, you know, come to really easy solutions, but I think it's been more about really sitting with the questions that were really uncomfortable for me. Where do I buy my like, Where do I stay in a house? Like I would always rent Airbnb, right? And then notice how I was gentrifying neighborhoods and notice how the price I paid for the Airbnb was oftentimes like six times the price of what locals are paying so like, Do I still stay at those Airbnb? Do I try to find something cheaper? Is there a way I can connect with the locals here so that my rent is going to the right places? Those are questions I still sit with. How I build relationships with people to you know, like sometimes I would pop into a city without knowing anyone and think that was really fun. But I found now in Mexico and in Brazil, I chose those places because I already knew a local And even just having that relationship first made it much easier to feel like I was ethically traveling without within the country. Because I had someone you know, to like, kind of call me out, you don't be like, what am I doing American things? What am I not realizing my effect here? And how can I How can I change that? Hmm,
Amy Scott  15:20
yeah, that's really powerful. I was just thinking about, we had another call for the collective a couple days ago, and we were talking a little bit a few of us live in Mexico. And one of the things we were talking about is that there are so many people and you know, I'm certainly guilty of this myself that, like, don't make much effort to learn about the local culture and stuff. And I think people, especially in Mexico, it's like, people think like, Oh, it's so close to the US. And like, there's American, you know, businesses here, and like, people kind of think like, Oh, it's, you know, it's just like, the US or whatever. And obviously, the culture is very different. But depending on who you hang out with, and where you shop, and all of those things that, you know, and that's what some people like about Mexico is that it feels like, you know, being in the US, except it's cheaper. And that's so much the what you're talking about, you know, and it makes me think about what I can do differently myself.
Amanda Machado  16:19
Yeah, I mean, another learning, I think, in the last few years that I didn't admittedly, consider when I first started traveling was also the idea of indigeneity, in places that was being completely disregarded by the travel industry, right. And I, you know, there was this book, Braiding sweet grass by Robin comer and indigenous writer, who I read recently, and she was actually also very instrumental in changing the way I saw travel, because she had this quote about how settlers always live with two feet on the shore, like are two feet, one foot on the boat and one foot still on the shore. That's how she said it. And what would it be like to live in a place with two feet on the shore, and that's what indigenous, you know, philosophy is, that's what it means like to interact with a place as if you're going to be there forever. And I think as a traveler, I realized, oh, not only is this problematic in all these different ways racially, and gender wise, there's all these dynamics, I never also thought that the way I was traveling was kind of contributing to settler colonialism, right, and these colonialist ideas that I don't have to treat this place as like a permanent place, I just can see it as this temporary location for myself. So I think that also reframed it to write, like, how are we connecting with indigenous communities in the places, right? And how are we helping and supporting them as people who are settling on their land, right? And an open the way I do that is I pay a land tax, I can give you the link after but there's an indigenous led group here, who calculates you know, what percentage of your rent, you could contribute, and they call the contribute the contribution of land tax, as a way of supporting them in reclaiming their own land. So the money goes back to them being able to buy land here in the Bay Area. And I just keep thinking, wouldn't it be amazing if there was that everywhere, so everywhere I traveled, I should have paid a lab tax, right? There should have been something on my plane ticket or in my rent, where I can, you know, directly funnel back to those organizations that are doing that kind of work. So yeah, I think that's something else I've been thinking about, too, that I don't think the travel industry is talking about enough.
Amy Scott  18:17
Yeah, that's super interesting. And first of all, you are the second or third person to mention braiding sweetgrass, and the last. I'm gonna have to read that. Yeah. And I'll be sure to link to that and some of the other resources we've been talking about. And, yeah, I would love to see the that website for the land tax, there is I will, I have a group that I meet with fairly regularly that several of them are in Canada, and they've been talking a lot about, you know, what they've been learning about the land that and I know, this is happening a bit in the US too, that like the land that they live on, and recognizing that more, and unfortunately, you may know, I can't remember off the top of my head, there's a website where you can put your location, it'll tell you who the native communities are that Yeah, on that land. So I will find that link as well and share it. But I, I when they I heard them talking. I assumed it was just for Canada, but turns out it is as much as possible. It's you know, it's more widespread than that. And I was able to get some information about the communities in the area of Mexico where I live. Yeah, really cool, because then there were links to a couple of websites. But you know, the of the active community that still lives here, and you know, there's so much more to learn and like you're saying to even contribute and support those communities as well.
Amanda Machado  19:38
Yeah, I use that. I think it's the same website that I've started using as well. And, you know, outside of that, too, I've started also another travel practice I've only started doing in the last few years is to actually research all of the history of oppressive anything in the place I'm in so like, in the US, you know, the house I'm in now, I didn't know anything about this neighborhood and West Oakland has a huge long press. History towards the black community here in Oakland. And if I'm going to be renting a house in this neighborhood, I want to know all that history, right? So I think you know what I did during the pandemic, because I couldn't travel as I spiraled on the internet one night, and just research the history of my hometown, which I had never learned the civil rights history, the gendered history, the immigrant history. Why we why the US occupied Florida, why we decided to buy it from Spain has a history and racism and slavery, I didn't know that and I grew up in Florida spent 18 years there had no idea. So I think also another action that really does change and inform whatever actions you do later is to actually know where you're inhabiting right to really go down those rabbit holes online and think about like, what, what was this neighborhood? Like? What has it been like for black folks, for women, for immigrant communities, for indigenous people? what's been done here, that now allows me to be here quite easily, in ways that other folks might not have been able to?
Amy Scott  20:58
Yeah, absolutely, I can, I can see a lot of gaps in my knowledge that I could fill in, in those kinds of areas. And, you know, what you were describing really struck me about, I think you said that was in braiding sweetgrass, where she talked about settlers who have like one foot on land and one foot in the boat. And I actually, I think that's a good segue into one of the other things I wanted to talk about, which is the some of the language that we use, and that gets thrown around. And one of them is, and some people may be familiar with this, because there was a big article, or a very attention getting article, I guess, I'll say in The Guardian a couple years ago, talking about the fact that white people are called x paths, and everyone else is an immigrant. And that is something I've definitely thought about a lot since I first saw that. And in many cases, I find myself avoiding the word ex Pat. But it's funny when I was making my notes. For our conversation, one of the things I was thinking about is that, in my mind, and I don't know if this is valid or not, but I see an immigrant as the person who does have both feet on the land, right, the person who's like, I'm all in, like, I'm staying here. And, you know, this is now my home, versus an expat, which what comes to mind particularly is the people who like when I lived in Mexico City, there were, I met a lot of people who, like worked for some, you know, International Bank, and they've been assigned to Mexico City for two years, they were in Singapore before that, and then they're leaving, and they're, you know, going back to Europe, or wherever they came from, you know, wherever the next assignment is. So I hesitate to say someone like that as an immigrant in the same way, like they already know, they're leaving, you know, in a different position. And then of course, there's people who may think of themselves as expats, or maybe just say, Nomad who are like, well, I'm here now, I don't know how long I'm gonna be here. You know, we're gonna be here for a few months or, and, you know, like, I have permanent residency in Mexico, and I've lived here, the better part of five or six years. But I don't know if I feel all in. Yeah. And that's, it's an interesting distinction. And I really like that imagery to, to help me identify, like, Where do I fit on that spectrum? You know? How settle do I feel where I am now? And I don't know, just, I'll stop rambling. And you know, any thoughts on all of that? Yeah, no, I'm
Amanda Machado  23:41
sitting with this too. And thinking we just need new language. new words, I think. Yeah, there's, I think there could be many, many words made for all the different lifestyles and you know, like, it's all changing so rapidly with technology and remote work. And yeah, people getting contracts, globalization, allowing people to have these temporary works, you know, life in different countries, like, yeah, there needs to be different words, to really kind of identify the different ways people are having this experience. But I guess what I'm sitting with, as you're saying that because yeah, this was the communities I would interact with too when I was living abroad and traveling is that the all of this inherently is the privilege, right? Like, the privilege is to wing it. And to not know maybe I'll go maybe I'll stay the privilege of like having a life that can have temporary phases. When I even just think about my parents, like my mom didn't, you know, like she had to wait three years in Mexico for a visa while my grandmother was in the US working and so she didn't see her mom for years, you know, and then they came over and I don't think it was like, Oh, well, we'll check out California see if we like it and then decide if we want to stay like no, we have to go here we have no other option. This is the best, you know, thing we can do. And when I think about my other friends too, now that you know even with more privilege, like right now, you know a lot of folks still can't get a visa to the US. Because of COVID, can't get access to vaccinations and their home country. So a lot of the folks with privilege fly over to the US and try to sneak and get a vaccine. There's just so much like, yeah, there's just so much privilege inherent and being able to decide, like whether we stay in a place or not. And whether we like it or not, like, I think that's what I'm realizing I'm so grateful that I've had the chance to explore and be able to, like, expand my life and framework of thinking and perspective by dabbling, you know, in all these different experiences. But yeah, as I sit with it, it's just like that, in and of itself is such a privilege that so many folks don't have, you know, like, right, when they get to a country, they they kind of have to choose. That's the only the only way to move forward. And, you know, in some ways, I think it is a very uniquely American experience, because we do have one of the best passports in the world, and access to countries much, much easier. I'm seeing it, you know, COVID just amplified everything I know, I wrote this article years ago, but the privilege we have to vaccination and testing and resources is a mess. You know, the friends I'm talking to, from all my life traveling, their experience is so much worse, right now during what's going on. And it's made me really realize, like, you know, the fact that I had the option to decide to come home and settle here. And then, you know, you know, by the stroke of luck ended up in the US during the pandemic really made my life easier this year.
Amy Scott  26:30
Yeah. Oh, yeah. I'm so glad you're calling this stuff out. Because for one, yeah, here I am, like, oh, if permanent residency in Mexico, I don't even know if I'm gonna, like use it. Like talk about privilege, right. And I also have residency in Argentina. I'm just like collecting them, you know? Yeah, that's obviously something that's not available to everybody. And that's really important to recognize. And as you're talking about the COVID, related things, I have noticed that as well, we actually ended up in a situation because of embassies being closed and things like this. And my son, my kids were born in Mexico, my husband's from Argentina. And because of COVID, none of them can go to the US right now, like my husband's visa expired, the kids haven't gotten all their paperwork sorted out yet. And it made me realize that all of these people around me or even people, like who live far away, we're like, I'm worried about you, like, can't you just go back to the US, either at the beginning was to wait out the pandemic, and I'm like, No, I can't like I live in Mexico, like my family's here, you know, I can't just pick up and go to the US. And then it came up with vaccines, also, people saying, like, I knew a lot of people who were going back to the US to get vaccinated. And that's not an option for me, or my family right now. And so, you know, we're waiting, in fact, it's mid September, we should be hopefully getting called for our second dose soon. But we just got vaccinated in July, you know, which is a lot later than a lot of people. And so yeah, it's that was an interesting experience to be, I guess, I would say, part of a group that normally experiences and takes advantage of those kinds of privileges and benefits, and then being in a situation this year, where I could it, I'm like, Well, you know, imagine this is what it's like, for a lot of people like you just deal with what's available, where you can just hop on a plane, and you know, and get what you need.
Amanda Machado  28:32
Right. And I think COVID in some ways, it's amplified the power dynamics that were always there. And in some smaller ways, like you said, it's also like, flip things on a script in ways that are kind of interesting, I think, like when the US ban or I think was Europe, at some point in the pandemic would not allow folks from the US to travel there anymore. And folks got livid because they're like, wait, what, like, I can't go to Europe. And for me, it was just like this is, you know, my South American cousins have to apply and show that they have 1000s of dollars in their savings account, and are good people and full time workers in order to prove that they are good enough to travel to Europe. And that's just the reality for everybody like Europe is not a given. You have to like work for it. And so for the US, you know, it was an interesting moment that I'm going it's like, oh, now we know what it feels like the rest of the country, this the world, not necessarily inherently believe we're good travelers and make us have to prove ourselves and now that certain countries are giving you know, restrictions for like needing to be vaccinated in order to visit. I think a similar resentment is probably going to come out of you know, it isn't necessarily a right to travel anywhere you want. And the US knows that because we have some of the strictest rules and you know, in the world, and it's interesting now to see some of those things start to flip on us.
Amy Scott  29:46
Yeah, absolutely. Yeah. Maybe for some of those people, it'll be an opportunity to go Oh, like this is what it feels like, Oh, this is what it's like for the rest of the world. Maybe now I have a better understanding. But yeah, a lot of them are just gonna be pissed. So I think the last thing I'd like to talk about a little bit is something I read about a phrase I read on your website that I found really interesting about justice oriented travel. And maybe this kind of encompasses a lot of what we've been talking about. But can you describe a little bit what that is, what that means to? And how we can practice it?
Amanda Machado  30:26
Yeah, I think it's very much what we've been talking about throughout this conversation, it's just taking a pause whenever we make any decision in travel to really think about whether justice is a part of your decision making, right? Is it fair? Is it? Or is the power you're using in that situation, helping other people or possibly harming other people? Is there a way that you can share that power with someone else give up that power in certain circumstances, just really being intentional about thinking of all power dynamics, right? racism, colonialism, misogyny, all these things are going on, and we're traveling and we know this. And yet, we'd like to just not talk about it, or to really just pretend you know, it's not there or just get uncomfortable, but then, you know, do little things that make us feel more comfortable about it, but not really sit in the discomfort of those harder questions. And I think the conversation we're having today is, you know, really reflective of that, just how can we, even when we don't know, the solutions, you know, really, at least to start to think about are my decisions as a traveler really creating justice for the place that I'm in? For the people I'm interacting with? for everyone, right? Because if they're not, you know, what is? What are we actually doing? Um, I think so much of travel is is you know, very individualistic. It's, for me, too. It was all about, like, my journey, and I'm, you know, quitting my job to travel the world and find myself, which, you know, I'm totally supportive of people doing what they need to make themselves happy in their life, and transforming their life. That's, you know, something I've never go against. But I'm wondering how we can balance that, while also thinking of the collective right, it's not only about my journey, it's about how my journey impacts everybody else's. And if my enlightenment, or my happiness or self care or growth comes at the expense of someone else, am I like truly liberating myself? Like, I don't think so at this point, right? I don't feel like I liberated my life through travel, if my travels impacted and caused harm to other people. So I think that's that's what justice oriented travel is, to me. And that's what I tried to talk about in my writing, and in my workshops is how to get folks to really ask those questions. So they're taking those into account. And I think, you know, with our conversation about COVID, it's just such a clear example, that our individual actions affect everyone. And then in turn, everyone's you know, what happens to everyone that helps us? Right. So to me, it just seems like it's, you know, never been clearer. There's such an obvious collectivism to what's happening right now. And it just shows that that's, that's where we need to be thinking, and acting moving forward.
Amy Scott  33:11
Yeah, thank you for sharing that I, you know, it gets me thinking a little bit about some of the places that I've gone that I've felt, I kind of I, my presence there felt uncomfortable to me, like I felt like I think about kind of like different strata of you know, of a place and of the culture and of the society and feeling like I was on this other plane. And, like, there was, I didn't know how to get on a different plane, you know what I mean? Like the plane that the locals were on, like, you're going to, you know, cafes, where you can work, and you go to co working spaces, and you meet all these other nomads and like, but you don't speak the local language, you don't know that much, really about the local culture. And I think I've always defaulted to this thought of like, well, at least my money is going into the community like that's, you know, that's something good that I'm doing here, even if I'm not actually like, connecting with locals. But I think that's just a way that I'm trying to make myself feel better. Because as you said earlier, is my money really going to local, I don't know who owns these businesses that I'm going to, you know, that's not something that I've particularly investigated. And it's, I think it is part of the reason that I think it started to shape my choices about where I did want to go. And not to you know, name names, but I think particularly what I felt that way about my experience and a lot of Southeast Asia, and even though I'm not trying to quote unquote better at it being alive. Latin America, at least I speak Spanish. So I feel like that's a huge step in the right direction. But yeah, it's something that, I think has been kind of an undercurrent and I didn't really know how to, like, name it or like, for the, you know, like you're talking about this kind of a path of inquiry into into what it's all about. Yeah, so I don't know if you have any thoughts on that, but that's what I was listening today.
Amanda Machado  35:30
Yeah. And and these are all things that came up for me while I was traveling, while still come up for me in Oakland, you know, because right, you know, like I'm a gentrify er here, too. I'm, you know, in a historically black neighborhood, I'm not from here. I didn't vote in the city council election last year, I, you know, like, I don't feel super connected to this place in a way either, you know, so like, I think, I think that's why I'm trying to focus less, because it's too overwhelming on solutions that are, you know, super obvious. There's a few like research the land, you're on research, the history of research, the places you're going, figure out where your money is actually going towards check and see if that's the right thing for you, your rent money, all those things. But honestly, yeah, like most of it is just dig deeper into everything you're doing. And dig deeper into everywhere you're seeing and looking at and think about, you know, how am I interacting with that? Most of the time, my answer was like, I'm just not, I'm not interacting with that I'm living here and having my own little experience. And I know I'm in a bubble, even though I'm in someone else's city. So how can I? Yeah, learn who owns that coffee shop, I go to work out and figure out if that's the right person I want to support or what do the people nearby? Think about that coffee shop? Where else can I go? I think just asking those questions, you know, is more of the framework rather than having an easy solution. When I was living in Cape Town, I had similar, yeah, very similar experience. I had a lot of friends that were from Cape Town, that made me feel a little better. I was working for a nonprofit that helped people in Cape Town that made me feel a little bit better. But at the end of the day, I had no connection to South Africa. You know, my family, my lineage, my ancestors, nothing of that was connected to South Africa. A lot of the space that I was inhabiting were majority white spaces, x cup spaces. I knew I had, I was living in the biggest house on the block. Even though it wasn't a super huge house. It was the biggest house on the block. And it was owned by white people and you know, usually had ex housemates. And yeah, I don't, I still don't have like, you know, an answer for all of that. But I was questions that I was sitting with, that were really instrumental and ultimately making me decide to come back here. But yeah, I don't think everybody's journey is gonna be super different. So there's, it's hard to give a clear answer. It's more about the noticing, I think of those things, and the asking, and then deciding like, what feels good to me. Yeah, like what feels right. Where should I be where I feel like I'm doing what I need to be doing?
Amy Scott  38:02
Yeah, yeah, that totally makes sense. It even makes me think about my experience, like living in a very expat heavy community in Mexico versus where I live now, which there are foreigners here, for sure. But it's not as obvious. And as far as I can tell, you know, it's We're in COVID. It's not like I'm interacting with my neighbors that much right now. But I'm, like, I'm surrounded by, you know, middle class, middle upper class Mexicans. That, I feel like their lives are more similar to mine than I did when I lived in an expat place where it felt like all the locals were really struggling to get by, and in a much different, like, hierarchy, you know, with the, with the expats. Yeah, it's, there's so many different layers to this, and so many different pieces that I'm sure you know, all of us can explore for ourselves. And I hope that this conversation, you know, gets people's wheels turning about situations that they've been in and, yeah,
Amanda Machado  39:19
yeah, yeah. Yeah, I guess I think the only thing I would say after that, it's just, I think, for me, it really has been a journey for these last five years, really seeing how deep colonialist thinking goes. And I didn't spend a long time thinking about colonialism when I was younger. And the more I think about it, you know, the, the the value behind it is that you can find something better somewhere else. And when you find it, it's yours, and you can just take it, and that's how colonialism, you know, worked and flourished in this part of the world, right? And so I sit with how much of that is inside me, admittedly, as a traveler, how much the idea that I can find somewhere and it's mine now. Because I like it. That's it. And that's, you know, no more questions asked. And so yeah, I think the more we just continue to question that and be like, how can I keep interrogating that? And what can I contribute? What can I give up? What can I redistribute? You know, wealth wise, anything? Um, in order to make that more balanced, because we can't solve the systemic problem by ourselves, but we have a contribution in it. So I think that's, yeah, that's what I'm trying to sit with now. as uncomfortable as it may be.
Amy Scott  40:34
Yeah. Yeah. Well, I think that sounds like a great place to leave things off for today. As you know, we said these are huge topics, we could obviously talk about a lot more. But um, yeah, I hope this gets some some people thinking and questioning a bit more about, you know, what they're doing in their own lives. And I'm excited to be able to talk with people in the collective in my community about, you know, like, where do we go from here, you know, we can share ideas and share our thoughts about this. So thank you, Amanda. This has been great.
Amanda Machado  41:08
Thank you so much for having me. And tell people where they can find you online. Yes, so you can find me at my website. That's where you can read my writing. Learn about my workshops and consulting facilitation work. That's AmandaEMachado.com. So my name middle initial e machado.com. And then on Twitter and Instagram, you can also find me at Amanda e Machado, zero.
Amy Scott  41:30
Perfect. All right. Well, thanks again. And thanks, everyone, for listening. And we'll see you on the road.
Get the Top 10 Logistical Things You Need to do before becoming a nomad
(That Aren't What You Think)
When you download the guide, you'll also be subscribed to the Nomadtopia newsletter. Your email is safe with me and you can unsubscribe anytime. View our Privacy Policy.
Get the Top 10 Logistical Things You Need to do before becoming a nomad