David is a financial planner and an on-again, off-again expat. In this episode, he joins me to share lots of financial tips and considerations for nomads, expats, and location-independent people of all stripes (plus his experience traveling with his pet ferret!).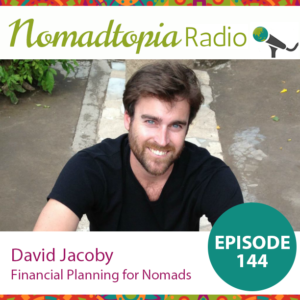 In This Episode
Traveling with a ferret
What is financial planning?
Unique financial considerations and challenges for nomads and expats
Financial benefits of location independence
Finance tips for new and experienced nomads/expats
Defining financial independence
And so much more
Resources We Talked About
Note: Links with an asterisk are affiliate links, which means you may receive free credit or another bonus and I may earn a small commission or other benefits if you sign up/purchase using that link. There's no additional cost to you, of course!
David's Links
Join the Conversation!
What ideas or topics resonate with you from this episode? What questions does it raise?
Leave a comment below, or continue the conversation in the Nomadtopia Facebook group.