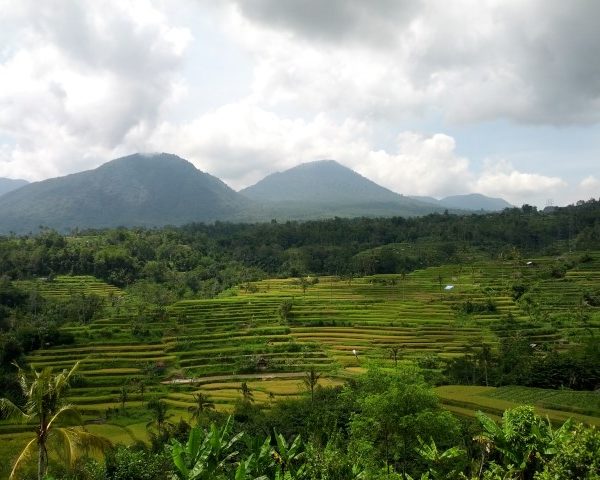 Inside Nomadtopia: First Days in Bali!
November 7, 2013 | Inside Nomadtopia, Nomad Life
Amazing how the illusion of writer's block set in just days (or hours?) after I proved that I could write a blog post every day (and finished up the month with tons more ideas than I had time to write about). But I'm back, and determined to stick around!
We've been in Bali for about 48 hours, and Indonesia for about 72, and it's been quite the whirlwind.
First, for anyone who's wondering, I would recommend getting some kind of ticket out of Indonesia before you arrive. We showed up without an onward ticket (woohoo, adventure!), but the guy at immigration wasn't too happy about it. So to avoid that headache and related anxiety, it might be worth it to just buy a ticket out and be done with it. (He did let us in, so it wasn't all that bad, but he said next time we wouldn't get in without it.)
We're staying in Ubud, which is known as the cultural and spiritual center of Bali, an island in Indonesia. Indonesia is actually home to more Muslims than anywhere else in the world (per Wikipedia), but the Balinese resisted Muslim influence and the island retains its Hindu and Buddhist traditions to this day.
Ceremony is a huge part of life in Bali; you see evidence of it everywhere from the moment you arrive. There are little offerings in the doorways of buildings, small altars mounted on walls in shops and restaurants and in front of homes, and small temple complexes everywhere.
A lot of the beautifully carved buildings actually are homes, with a dramatic entrance and a number of different buildings inside where members of the same family (I'm guessing that's usually the case) live.
Today, the owner of the homestay where we're staying invited us across the road to witness the ceremony to celebrate the first 100 days of his grand-nephew's life. Unfortunately, there wasn't really anyone available to explain to us exactly what was going on, but we got the general gist of it and it was neat to get a glimpse into both the everyday and the ceremonial in this family's life.
Most of the rest of our time here so far has been spent working, eating, and looking for longer-term accommodations.
Yesterday, we wandered around in the hot, hot sun for ages, poking our heads into lots of ornate doorways that promised rooms for rent. Most of the signs just say things like "hot/cold shower, free Wi-Fi" so you really don't know what the place will be like, or they're charging, until you step inside.
Many of these are "homestays," where a family rents out rooms within their compound (we're staying in one of these now). We certainly got to see how a lot of locals live by wandering right into the middle of their domestic lives, so that was cool (since it was so hot, we mainly saw a lot of people lying around!). And we saw a huge range of accommodations, from super-basic (and kinda depressing) to luxury villas.
We had a few good prospects after yesterday, but I hopped online last night to explore some more options, and found someone advertising a place that sounded just right for us (and after looking at places all day, we knew it was a good deal).
So long story short, we went to look at it today, it's great, and we're moving in on Friday! We'll be staying there until early December, maybe longer, if we can renew our visa.
I've been so busy looking for signs that say homestay, bungalows, villas, apartments, or rooms for rent that I've taken just a handful of pictures since I got here! Not to mention that the Internet where we're staying is just good enough for Skype calls, but total crap for uploading or downloading a file of any size.
Get the Top 10 Logistical Things You Need to do before becoming a nomad
(That Aren't What You Think)
When you download the guide, you'll also be subscribed to the Nomadtopia newsletter. Your email is safe with me and you can unsubscribe anytime. View our Privacy Policy.